The Miracles That Saved Carlos Sanchez's Soul
An artist had his faith educated out of him. But then he walked into a cathedral...
It's Good Friday for Western Christians (next Friday is the same for us Orthodox), and I don't want my only posts about the faith to be negative. Let me tell you a story about a man who played a key role in my own conversion. This story should be an encouragement to all you believers, no matter how beleaguered you may be today.
In the summer of 1991, I was a reporter on the features desk of the Baton Rouge Advocate. My editor told me that she had a tip that an elderly Catholic priest in Baton Rouge had been a notable artistic figure before he entered the priesthood. She thought it might make an interesting art feature. I found the old priest, Monsignor Carlos Sanchez, then 93 years old, in an assisted living facility in town, and made an appointment to see him.
The man who welcomed me into his modest, tidy apartment was small and frail, but his face was curiously unlined. You know how every now and then you'll meet somebody who seems luminous, as if they were glowing from within? That was Monsignor Sanchez. He offered me tea, and we sat down to do our interview.
He told me his life story. He had been born in 1898 in Guatemala, the son of a rich Guatemalan planter and an English mother. His folks sent him to Dartmouth College in New Hampshire, where he studied art. He had been raised a devout Catholic, but as he told me at the time, "Those brilliant minds made a lot of boys lose their faith. They made me lose mine. Everything became so uncertain."
After graduating in 1923, Sanchez headed to Germany to study medicine, in part because he wanted to help in relief efforts there. His interest in art grew. The painting at the top of this post was a self-portrait he created during the depths of his crisis of faith.
"I don't think I have ever suffered as much as during that struggle for my faith," he said. "That goes deep, you know. I hated God."
That was the spiritual state of the man in the image above.
Eventually he returned to the US, and entered the architecture program at Yale, graduating in 1928. I can't find a copy of my 1991 story about him, but a report from a few years ago, published by the Hood Museum at Dartmouth, tells what happened next:
After a brief stint as a junior draftsman on the Empire State Building, he moved to Mexico to work with Diego Rivera on two murals, one in the Palace of Cortés in Cuernavaca and the other at the National Palace in Mexico City.

Dartmouth recognized Sanchez as a promising artist with great technical proficiency and in 1931 invited him back to campus as part of the new "Fellow in Art" program that was supported by President Ernest Hopkins. During his time as the first artist-in-residence, Sanchez helped found the Arts Department at Dartmouth, and at the end of his yearlong residency, he stayed at the College to assist Orozco in painting the famous mural in Baker Library. His fluency in English and Spanish and his knowledge of Dartmouth and its history were invaluable to Orozco as he worked on his ambitious project.
These deeds were what brought me to Monsignor Sanchez's door that day. "So why did you leave that behind to become a priest?" I asked.
He told me that he received an invitation to return to Guatemala for a mass involving his father. The old man had been estranged from the Church for some time, and as he neared death, wanted to be reconciled to God. All of his ten children were invited to the mass at the cathedral in Guatemala City.
Sanchez decided to conceal his unbelief from his family, so as not to upset them. He went forward to receive the Eucharist at the communion rail. As he knelt, the priest held out the wafer to him. Suddenly, a burst of light came out of the Host, and Sanchez heard an audible voice. Here's how I relate that story in How Dante Can Save Your Life:
More, from How Dante: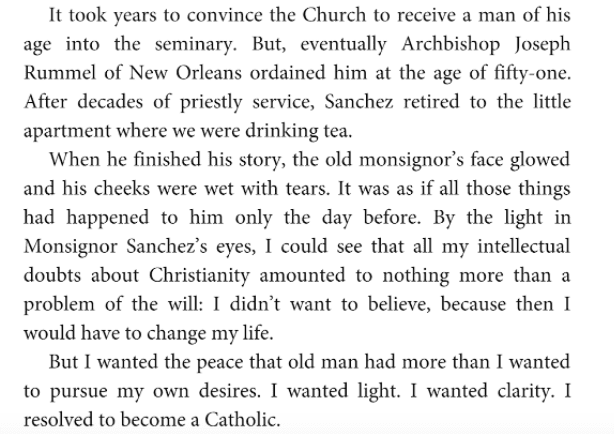 You know the rest of my story. To this day, I remain a Christian (though not a Catholic) in part because of the way the divine light shone through that elderly priest on that summer afternoon in Baton Rouge. I've been thinking a lot about Monsignor Sanchez lately, because the book I want to write next is going to be about learning to see signs of the divine in beauty (including art and architecture) and in the witness of faithful people. There was something about Monsignor Sanchez, about the purity of his testimony, and the piercing light in his face, that said to me, in the voice of God, "I have always loved you. Why don't you do as I ask?"
Here is a canvas that young Carlos Sanchez painted after he regained his faith:
Jessica Womack, in her article for the Hood Museum, describes it like this:
The mood of Sanchez's later work, Young Man with Bird, starkly contrasts with that of Self-Portrait. His faith became reinvigorated in the 1930s, when Sanchez experienced the "first real call to become a priest." Young Man with Bird depicts this personal transformation and shift in spirituality. Here, a young red-haired man embraces a glowing orange bird against a star-filled night sky. His closed eyes suggest a religious experience, conveying a sense of powerful emotion and spiritual transcendence. The radiant colors and dramatic, flickering light gives the painting an ethereal quality that suggests a maturation of Sanchez's spiritual vision and technical ability. The importance of this painting for the artist is underscored by the fact that he hand-carved a decorative wooden frame for the work.
I love that saintly old monsignor, revere his memory, and thank God for the gift of Carlos Sanchez, who was a sign to this reluctant pilgrim. I will write more about him in my next book. What I say to you, reader, is this: keep your eyes open. You never know when you are going to walk into a cathedral — or a little old man's apartment — and have a theophany, a showing forth of God. Good Friday is a day of darkness … but after the darkness, there will be light, for those with eyes to see.