John McCain's Terrorists
Telling friends from enemies in Iraq and Syria is largely a matter of guesswork.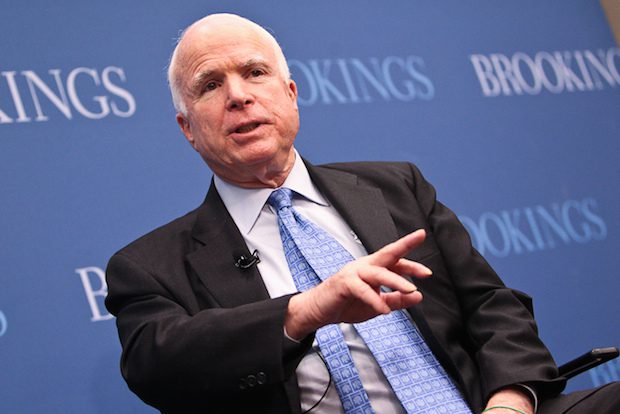 The White House strategy to "destroy" ISIS, the self-declared Islamic State in Iraq and Syria, depends in part on a vague plan to support moderate elements in the opposition to Syrian leader Bashar al-Assad, presumably to serve as boots on the ground to complete the job started through aerial attacks provided by U.S.-led coalition forces.
Ironically, President Obama in embracing such an approach contradicts his own assertion, made two months ago, that arming Syria's pro-democracy opposition has always been a "fantasy." Unfortunately, it is still a fantasy and the competition to find the good insurgents has led to some sharp exchanges between two Republican senators.
Sens. John McCain and Rand Paul have been trading barbs relating to a visit made by McCain last May to meet with Syrian rebels. The meeting included a photo op with the Northern Storm Brigade, a group then receiving U.S. assistance even though little was known about the organization or its leaders.
Paul has claimed somewhat hyperbolically that McCain met with ISIS, a charge that both the senator from Arizona and the mainstream media have sought to dismiss, but it now appears that the Northern Storm Brigade was the organization that sold American journalist Steven Sotloff to ISIS. Sotloff was subsequently beheaded.
John McCain may have been guilty of a ridiculous publicity stunt, but he certainly did not knowingly meet with a terrorist-affiliated group. Yet the fact that he did appear with these rebels—presumably after receiving the imprimatur of whomever from the intelligence or spec-ops community was managing ground operations in Syria from the U.S. perspective—demonstrates just how murky the whole Syrian enterprise has become. Shifting loyalties are certainly the norm, and by all accounts groups like the Northern Storm Brigade are ideologically fuzzy opportunists who are in the game for themselves and whatever they might get out of the continuing anarchy. It and similar groups might well constitute the majority of the "moderate rebels" that the president is hoping to mobilize. 
Amidst all the confusion, the intelligence community is particularly concerned lest it again be scapegoated by policymakers who want it to do the impossible. There are a handful of CIA and military operational officers on the ground in Syria and Iraq, but they lack the resources to track insurgents or to categorize their political leanings as good or bad, particularly as third-country volunteers continue to flow into the most extreme organizations worldwide. To a limited extent earlier in Iraq, and subsequently much more in Afghanistan, it was possible to track local residents using biometrics, a necessary expedient because it was and is far too easy to change one's name and obtain false documents in the region. The biometrics program was so widespread that at one point it was suggested that most of the Afghan male population over the age of 14 might eventually be entered into a database. But that could be aspired to only because coalition forces controlled the ground, meaning that they could establish technical registration points and incorporate the information into something like public records.
No such control over the environment exists in the affected regions of Iraq and Syria, meaning that telling friends from enemies is largely guesswork.
Philip Giraldi, a former CIA officer, is executive director of the Council for the National Interest.