'The Plague' Book Club.1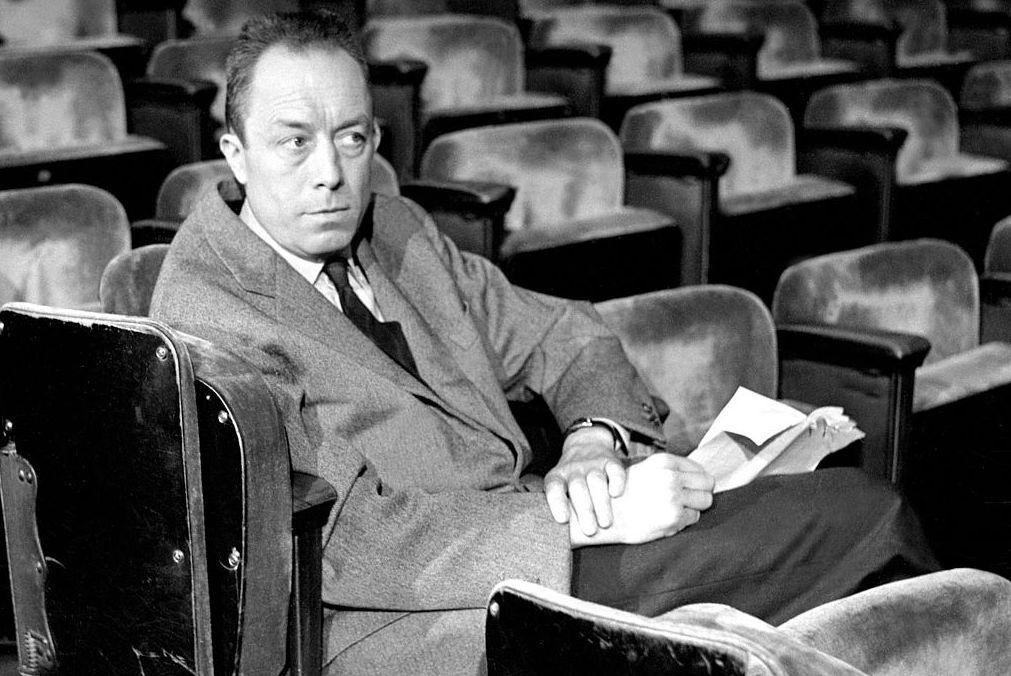 Albert Camus (Photo by Daniel FallotINA via Getty Images)
Hello to readers who accepted my invitation to read the 1947 Albert Camus novel The Plague together, and discuss it. I expect to cover the book in four or five posts over the next week to 10 days. I will start each post by saying how far into the book the discussion that follows in that particular post will go, so people looking to avoid spoilers can do so.
I am using the Stuart Gilbert translation, which seems to be the English standard.
The approach I'm taking is not a formal one. I am not a literary critic. I'm interested in reading Camus's story in light of the coronavirus pandemic that is just taking hold around the world. The Plague is a fictional account of an outbreak of the bubonic plague in Oran, a port city in Algeria, in the 1940s. I'm curious to see how the various characters react in the face of a deadly disease that sweeps their city. What lessons does this novel hold for us today, in our situation?
This post is going to cover Part One of the book, which entails chapters one through eight.
Part One sets the stage for the drama. Camus describes the city of Oran as thoroughly unremarkable, a fairly dull place where people spend their days going about their business. Excerpt:
I've never read the novel, so I'm experiencing it like the rest of you, for the first time. This passage seems important to me, somehow. The plainness of Oran, and the mediocrity of its people and its way of life, signals to us that the people are not prepared for the immense moral drama that is about to overtake the city. Then again, who ever is? Camus says that they are "completely modern" in that they don't ever think about life beyond the everyday.
That is about to change. The main character in the novel, Dr. Bernard Rieux, is a 35-year-old physician who, when we meet him, is sending his sick (though not with plague) wife off to a sanitarium for rest. M. Michel, the concierge of their apartment building has set himself the task of finding out who is leaving dead rats in the building. The old man is certain that some kids are pranking him. As Dr. Rieux makes his daily rounds, we meet other characters: Raymond Rambert, a journalist in from Paris to investigate conditions among the Arabs; Jean Tarrou, an outsider who arrived in the city for unclear reasons; Father Paneloux, a Jesuit; Joseph Grand, a good-natured city clerk who is tall, thin, missing many of his teeth, and who lives an austere life of disappointment; Cottard, Grand's mysterious neighbor, who, when we meet him, has just tried and failed to kill himself.
As dead rats begin to show up all over Oran, M. Michel comes down with an agonizing disease, and dies. Within 10 days, rats are dying by the thousands, and people are starting to fall too. But the town fathers calm the populace:
This is false confidence. Later, an older, more experienced doctor quietly says to Dr. Rieux that he believes they are looking at the plague. Dr. Rieux reflexively resists this terrifying diagnosis. Camus says that this is normal. Everybody knows that war and plague are recurring facts of life, but everybody is surprised when they manifest. Camus:
This is the one paragraph of Part One that really jumped out at me. This is us, is it not? A friend texted me the other night to say that he has a feeling that nobody in America understands what's about to hit us:
When you have lived for several generations in a powerful and wealthy country untouched by deep tragedy and awash in the deep-seated belief that you are both the Chosen Land and Master of Nature, the belief that everything is manageable becomes the biggest article of faith. And the biggest blind spot.
Today I went to pick the kids up from school, and on the way, heard that the Fed made a big interest-rate cut. As I write, the stock market is falling. It's just a fact of life: interest rate cuts don't matter when the problem is that there are no things to buy, because factories are idle, shipping is down, stores are closed, and nobody has money to spend.
I think of myself on the morning of 9/11, having just watched the south tower fall to the ground, wandering back towards my apartment in Brooklyn literally in shock (says my wife, who saw me when, dazed, I walked up to our door). I could not believe that such a thing could happen to us. We are the masters of our fate. We control everything. Right?
China is the richest, most powerful police state in the world, and it has been humbled by this disease. We still don't know what the ultimate economic impact is going to be for that country alone. And what happens in China affects the entire world. If the disease had been fully contained in China, it would still be a blow to us. But now we're going to go through some version of what China has been suffering all year. How should we have given a thought to anything like coronavirus?
Camus goes on:
Obviously coronavirus is not remotely as gruesome as the bubonic plague, but the point Camus makes here is relevant. "The plague" is something so theatrical and lurid in our imaginations that we can't reconcile it with the the everydayness of our lives, "briskly refuting cruelty and pain." My mom is 75 years old, and has COPD; I've been advising her to stock up (which she has done), and to do as much staying at home away from others as possible right now. She's trying to do this, but it's hard to react to a threat that is, for now, abstract. She said to me today that her high school class alumni group meets once a month for lunch, and she's thinking that she ought to go on Thursday because one of the group is not doing well health-wise, with a long-term illness, and she (my mom) feels like she owes it to that friend to make the effort. I told my mom that none of those older folks should really take unnecessary risks of exposure right now, especially not the chronically ill friend. "I guess you're right," she said. I totally get where she's coming from. The idea of a massive public health crisis, including quarantine situations, is something out of the movies. By the time we have our first confirmed coronavirus cases here in Louisiana, it will already have been spreading for a couple of weeks, most likely.
After I got the latest from Wyoming Doc today, about what he's seeing — his office flooded with calls from people who have coronavirus symptoms, but no way to test them all, and his staff reduced because some have the same symptoms, and need to be at home — I texted my mom and told her that we are likely to see the same kind of thing here in the next couple of weeks. Reading Part One of The Plague really brings home how common it is to fail to imagine what an epidemic can do to us, and how that failure of imagination, plus bureaucratic denial, puts us all at more risk.
One last Camus quote about this. Here, Dr. Rieux has just been talking to Joseph Grand, who is such an ordinary person, kind of a sweet sad sack. Rieux concludes:
If you're like me, you watched the video and read the stories about China in the grips of coronavirus, and it has all seemed so … foreign. It's a strange quirk of human nature, at least in modern times: this kind of thing just doesn't happen to people like us.
Except now it is.
Part One ends with the death toll mounting, and the city health authorities, and its government, finally agreeing that the truth can no longer be denied. The plague is in Oran. The city must be sealed off.
Comments are open. Please keep your comments restricted to Part One only. If you have not read The Plague, please do not comment, or if you feel that you must, keep your comments short. I reserve the right not to publish comments that might get the book discussion off track. This is not a thread for you to make general comments about coronavirus or the government's response to it. This is a book club discussion.
Latest Articles