The U.S. Must Stop Enabling War Crimes in Yemen
By helping to make attacks on civilian targets possible, the U.S. makes itself complicit in the commission of war crimes.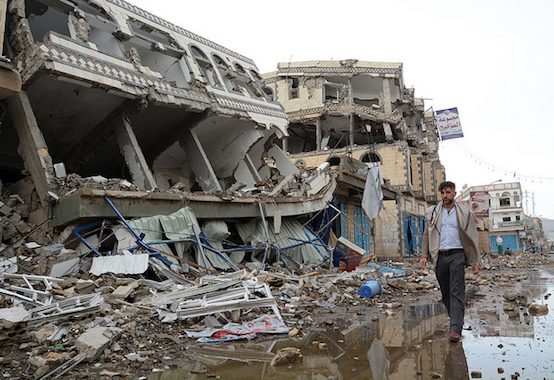 The Saudi-led coalition killed over two dozen people when its forces bombed a hotel and market in Saada province:
Medics and a Yemeni health official say at least 26 people have died in an airstrike in northwestern Yemen.

The airstrike Wednesday hit a hotel and neighboring market in Saada province, which is located near the border with Saudi Arabia.
This is just the latest in a long string of indiscriminate attacks in civilian areas by the coalition. Saada province has suffered some of the worst bombing over the last two and a half years, especially after the coalition illegally designated the entire area a military target. Other civilian targets that have been hit over the years have included schools filled with children, health clinics, and civilian homes, among others. When the U.S. fuels and arms the Saudis and their allies, this is what our government is enabling in Yemen. These are all violations of international law, and by helping to make them possible the U.S. knowingly makes itself complicit in the commission of war crimes. That must end if there is to be any hope of halting the war in the near future.
If H. Con. Res. 81 can be brought to a vote, members of Congress will have an opportunity to oppose the policy that has fueled this atrocious war for the past thirty months. There continues to be resistance to the resolution from the leadership of both parties, but I am hopeful that the effort to quash the resolution will fail. Contact your representatives and urge them to co-sponsor and support the resolution so that our government's indefensible support for the war on Yemen is halted.