The Catholic Bonfire At The Stake
After lying Nathan Phillips went after Catholic schoolboys, he and his crew reportedly then tried to invade holy mass at DC's Catholic basilica
Good morning from Dublin. It is really interesting to observe US public controversies from outside the American bubble. I am startled by the massive controversy that has erupted over the Covington (KY) Catholic school boys and the Native American man, Nathan Phillips, in the aftermath of the March For Life. Several video clips of the confrontation between an elder of the Omaha tribe and a large group of Catholic high school boys wearing MAGA hats have gone viral. Here's a news story about the video, summing up the basics of the controversy. 
A selected part of the clip shows boys jumping and hooting and acting in a somewhat intimidating way towards the older man, as if to mock him. Some people interpret the boy standing in front of the man, the kid with a rictus grin, as sneering at the old man. Others say that you can't assume that was a sneer; maybe the kid just didn't know what to do.
In any case, the Catholic school has apologized for its students' action, and the mayor of their hometown has denounced them. The boys were in town for the March For Life. The video is being widely cited as an example of the Trumpification of Christianity, and connected to the Karen Pence school controversy as yet another example of why conservative Christianity is an evil that must be driven from the precincts of the decent.
It is possible that the Catholic boys were complete asses. My initial judgment was that they certainly were that. You don't treat a peaceful elderly person like this. Even if they thought he was wrong, those boys owed him respect. Yes, the old man approached them, but they could and should have handled him with respect. They come off as bullies.
But then I watched more clips, showing the greater context of the incident. It is not as simple as it has been portrayed. Below is a more complete video account of what happened. In it, one of the Catholic boys is overheard asking, "Does anybody know what he's doing? Does anybody know what's going on here."
And, in it, one of the Indians with Phillips shouts: "White people, go back to Europe. This is not your land." He curses the students with f-bombs (video is NSFW). He goes on: "You're being a white man about it. That's all you know how to do."
You didn't see that in the news reporting, did you?
Then, at the 4:40 mark, members of an insane black radical cult called the Black Hebrews (I remember them from my DC days) starts ranting at the boys about whites and sodomy, and says that "your president is a homosexual." He makes fun of Christian civilization, saying: "You give faggots rights!"
Watch it all here:
[youtube https://www.youtube.com/watch?v=npX801xLSFY]
The online mob is starting to doxx those Catholic boys. One of them sent this to a local news channel (forgive my formatting problem; just read the text):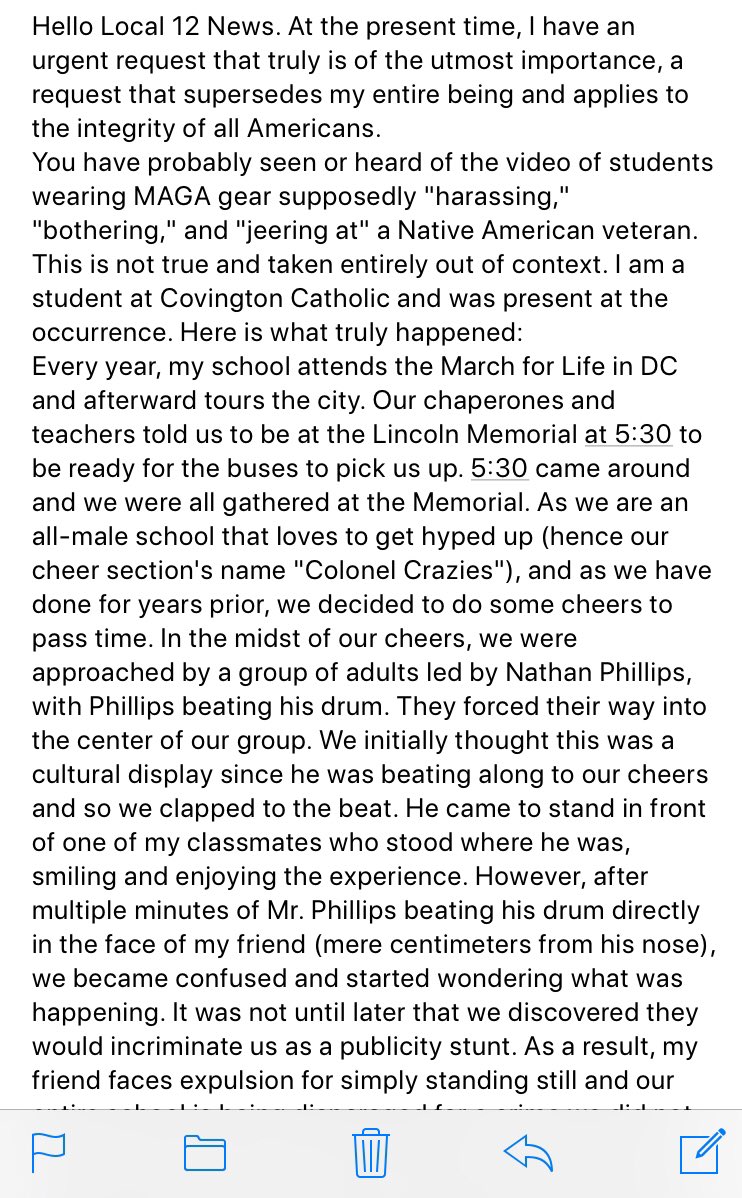 Latest Articles