Bolton's Book is an Instruction Manual for How Not to Do Foreign Policy
He did his best to block Trump's few good instincts and prevent the president from having any diplomatic successes.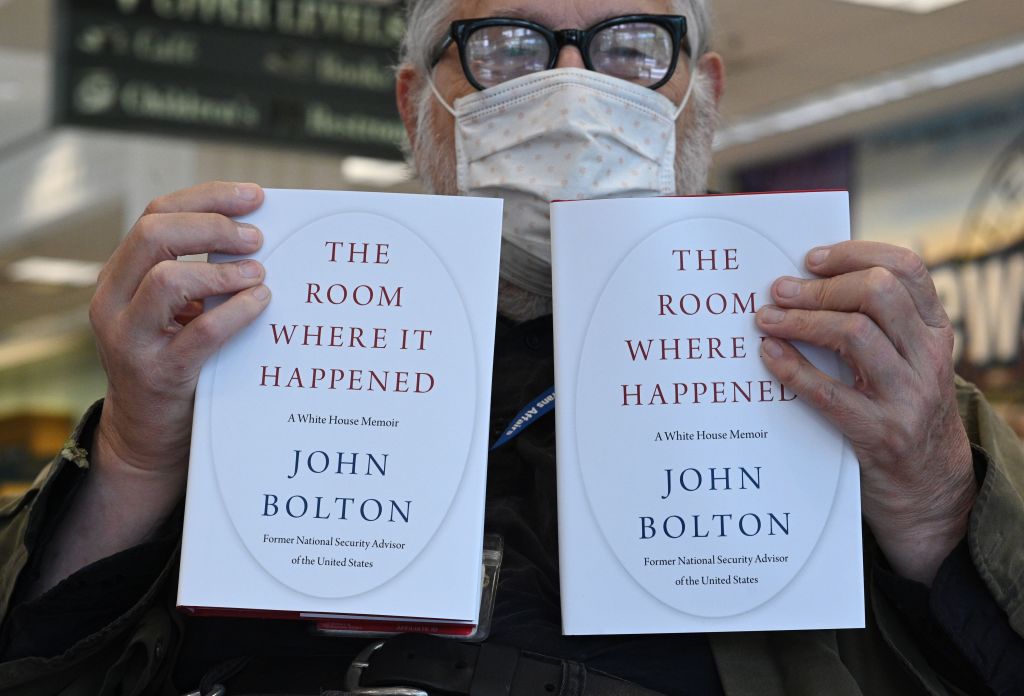 Bookstore customer Thomas O'Shaughnessy holds up two copies of the new book he will buy, "The Room Where it Happened" by former US National Security Advisor John Bolton, at Barnes & Noble bookstore in Glendale, California on June 23, 2020. (Photo by ROBYN BECK/AFP via Getty Images)
Anyone who has followed the long career of Donald Trump's ex-national security advisor John Bolton knows of his hostility toward multinational agreements and hard line toward so-called rogue states. His solution to difficult countries like Iran and North Korea is always regime change: through sanctions if possible and military action if necessary.
President Trump hired Bolton in April 2018 to help get rid of the Iran nuclear deal (the Joint Comprehensive Plan of Action or JCPOA) negotiated under Barack Obama, which Bolton—and many others particularly in the Republican Party—regarded as insufficiently tough. Trump formally withdrew the United States from the JCPOA in May 2018, but entertained ambitions of obtaining a "better deal." In July 2018, he even declared that he was willing to meet with Iranian President Hassan Rouhani without preconditions in order to get one.
Bolton did everything he could to frustrate such ambitions until Trump unceremoniously ejected him in September 2019. Bolton also encouraged acts that could have dragged the U.S. into a third Middle Eastern war. It is telling that of the several times Bolton claims that he was ready to quit the Trump administration, one was when Trump changed his mind at the last minute about retaliating for the Iranian downing of a U.S. drone—because it could have killed 150 Iranians—one was when Trump considered inviting Iranian Foreign Minister Javad Zarif to the White House, and one was when Trump toyed with meeting Zarif at a G-7 summit in the French resort of Biarritz.
A skilled bureaucratic infighter who, in the George W. Bush administration, helped torpedo a 1994 nuclear agreement with North Korea and push America into war with Iraq through selective use of what turned out to be bad intelligence about weapons of mass destruction, Bolton is a product of an era when the U.S. truly dominated the international system. But years of American military blunders and disregard for the opinions of allies and partners—as well as the rise of China—have eroded that dominance. The current era requires multilateral diplomacy more than ever—persuasion rather than intimidation. Ironically, the details in Bolton's book, The Room Where It Happened, underline just how outmoded and counterproductive his views are.
Bolton seems to assume the reader will take his side in his many battles with bureaucratic rivals and members of the "High Minded"—his disparaging term for the U.S. foreign policy establishment. He also assumes that readers will appreciate his efforts to circumvent Trump. But what comes through just as strongly is the ineffectiveness of Bolton's approach. His agenda did not mesh so perfectly with Trump's. Other administration officials, such as Treasury Secretary Steven Mnuchin, had a better sense of the president's desires.
Mnuchin, Bolton writes, slow-walked the re-imposition of economic sanctions on Iran—to give U.S. allies and the oil markets a chance to absorb them without disruption. "This was a perennial problem with Treasury under Mnuchin," says Bolton. "He seemed as concerned with mitigating the impact of sanctions as with imposing them to begin with."
According to Bolton, "The right way to impose sanctions is to do so swiftly and unexpectedly; make them broad and comprehensive, not piecemeal; and enforce them rigorously, using military assets to interdict illicit commerce if necessary." But history shows that sanctions rarely compel determined adversaries to make concessions, or alter their conduct—especially if they perceive that doing so could expose them to existential harm. Effective sanctions must be combined with skillful diplomacy, the widest possible international buy-in, and a willingness to relax the punishment when conditions warrant.
Bolton appears to disdain the very idea of such negotiations. In his book, he scorns Mnuchin for working behind the scenes with France's finance minister, Bruno Le Maire, to arrange a slight relaxation of Iranian sanctions to get new talks started between the U.S. and Iran—something Trump clearly wanted and Bolton evidently regarded with horror. When Bolton found out about this nefarious diplomacy, he phoned a friend, Israeli Prime Minister Benjamin Netanyahu, "encouraging Netanyahu to call Trump…to stiffen his spine."
Bolton also disparages Mnuchin for expressing reservations about the American sanctioning of Iran's Islamic Revolutionary Guard Corps (IRGC). "Mnuchin worried that this designation for the elite wing of the Iranian military…would have widespread consequences, a concern I didn't understand," Bolton writes. "I thought the whole point was to inflict as much pain as possible on these terrorists." In fact, as Bolton himself concedes, "there was a legitimate concern that action against Iran could increase the risk to US forces in Iraq and across the region."
Bolton's prescription in this eventuality is to increase American forces in Iraq. Similarly, he opposes a U.S. withdrawal from Syria, not so much because it might benefit the Islamic State, but because the United States has to stay in Syria to prevent Iran from further strengthening its presence there.
Bolton has a similar rationale for staying in Afghanistan, even though the U.S. troops there have given Iran another venue to pressure America and retaliate for any military strikes on the Iranian homeland.
Given its chaos and conflicts, the Trump administration has struggled to achieve any big diplomatic successes. But Bolton did his part to block Trump's few good instincts. In this sense, The Room Where It Happened is essential reading for those who want to create a new brand of American global engagement based on trade, diplomacy, and mutually beneficial cultural exchange. Bolton shows us what not to do and what does not work.
Barbara Slavin directs the Future of Iran Initiative at the Atlantic Council. She tweets @BarbaraSlavin1.
Latest Articles