Joe Biden Set to Name VP With Karen Bass Making a Late Surge
The former vice president signaled Tuesday that next week is the week for his own selection.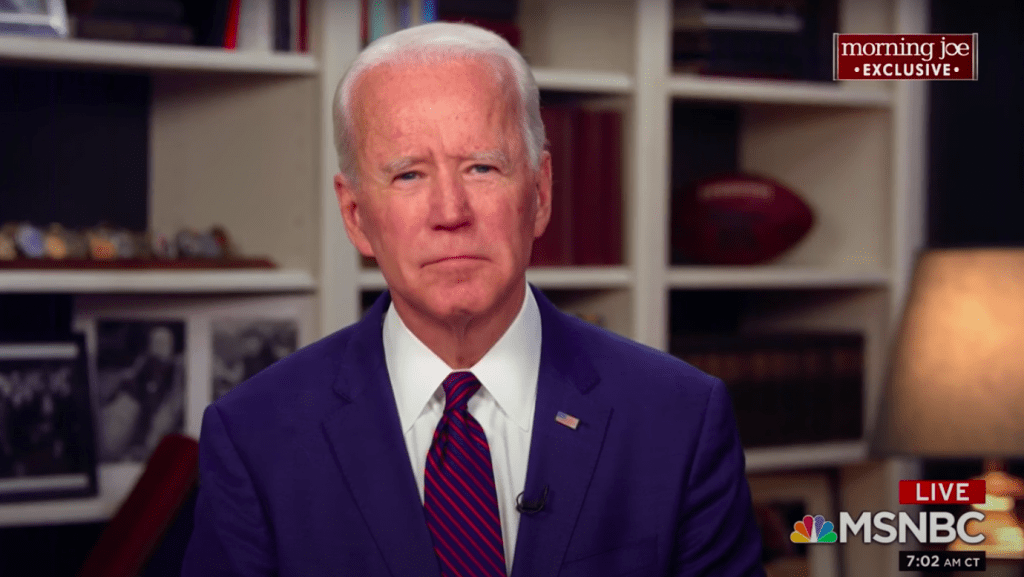 Grabby Joe Biden appears on 'Morning Joe' Friday to answer Tara Reade allegations (MSNBC screenshot)
Seemingly keeping his word, presumptive Democratic nominee Joe Biden said Tuesday in Delaware that he would name his running mate next week. The presidential contender had previously pledged to tap his deputy around August 1.
"What I said was I will — I'm going to have a choice in the first week in August," Biden said Tuesday. "And, I promise, I'll let you know when I do." Biden, when pressed, did not commit to meeting with every VP aspirant in person, nor to receiving COVID-19 testing if he did. Interestingly, the former vice president noted the media has "crews outside my house," implying his itinerary is no secret. 
Indeed, his shortlist could be more tightly guarded: California Senator Kamala Harris, Massachusetts Senator Elizabeth Warren, former National Security Advisor Susan Rice and a latecomer — California Congresswoman Karen Bass — are by all indications the finalists. Each has been a subject of knife-fights in the press in recent days.
Close Biden associate Chris Dodd, a 2008 presidential candidate and former Connecticut senator, through associates gave an unadorned impression of Harris this week, remarking that she had "no remorse" for heavily implying Biden was a racist during the primaries. "That's politics," POLITICO reported Harris as saying unflinchingly, in a comment that offended Dodd and potentially rankled Biden.
Last month, in the aftermath of the police slaying of Minnesota man George Floyd, Senator Amy Klobuchar of the True North State) removed herself from vice presidential consideration, saying the choice should be a woman of color. Klobuchar was previously a favorite for the role, and her remark was widely interpreted as intending to damage Warren, the only non-black finalist. Biden, though he has tacked left on almost every front since the onset of the Coronavirus crisis, is still hesitant to rattle the American financial industry amid Depression conditions; Warren is an old antagonist of big banks.     
Ambassador Rice is gaining late steam — also courtesy of POLITICO reporting — but many political veterans doubt she's being seriously considered, with the media floating of her candidacy possibly a courtesy and an effort by team Biden to streamline a future appointment to his national security team. Rice was embroiled in the Benghazi, Libya controversy that disrupted the 2012 election and weighed down Barack Obama's second term. Her selection would be taken as proof to voters on the Left — againlicking their wounds in recent days, with a series of policy platform defeats — that Biden represents a pure Obama restoration. The Right, on the other hand — doubtless the underdog in this election — would leap at the chance to relive history. 
It's the late play by Bass that's generating considerable buzz. The Angeleno in recent days met with Biden and has taken pains to clarify her record. Most notably, she seemed to revise old, laudatory comments about Cuban strongman Fidel Castro: "It's certainly something that I would not say again." Though younger than Warren, Bass, who is 66, is seen in Biden world as the least likely of the quartet to blatantly angle for the presidency herself once in office. Politically, Bass has Harris' big state pedigree, is an African-American, but is not revolting to the Left (like Rice), nor petrifying to Wall Street (like Warren).  
Latest Articles