Culture war
Hero New Yorker: 'That's NOT OK, Cupid!'
Subway rider disgusted by the pornification of the public square rips sleazy dating app ads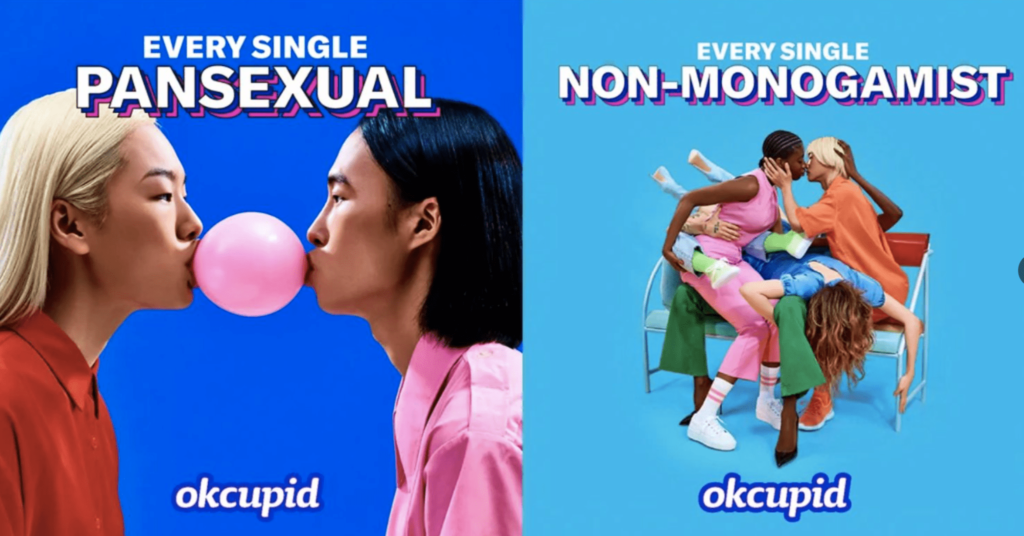 The online dating app OKCupid came out this summer with a new advertising campaign, talking about all the different kinds of lovers it serves. Here's another:
These things appeared on the subway in New York City. Imagine having to answer the questions: "Mommy, what's a submissive? Daddy, what's a pansexual?" Etc. The pornification of the public square seems irreversible.
Well, an angry New York woman had enough, and went crazy on the D train. Look at this hero:
UNBELIEVABLY BASED (Pt.1) pic.twitter.com/TcBZWmchBC

— Dayum Nobueno (@DamnNobueno) September 22, 2021
UNBELIEVABLY BASED (Pt.2) pic.twitter.com/TUyE4PKXOV

— Dayum Nobueno (@DamnNobueno) September 22, 2021
By the way, OK Cupid is also doing politics:
And then there's the political messaging which is equally as gross. pic.twitter.com/gHhDteVWfF

— Megan Fox ? (@MeganFoxWriter) September 23, 2021
UPDATE: Ever heard of a book titled This Book Is Gay? It's billed as an LGBT "instruction manual" for young adults. It got a great review when it came out in 2015 from School Library Journal, quoted on the Amazon page:
From School Library Journal:

Gr 10 Up—This witty, no-holds-barred look at the LGBTQ experience provides information that parents or school friends often can't or won't give. The book covers dating, religious perceptions of LGBTQ people, bullying, coming out, and more. Employing occasionally snarky, informal language, Dawson provides very direct, frank guidance (among the subheadings are "Doing the Sex" and "Why Are Gay Men So Slutty?"), including sexual advice (complete with labeled anatomical cartoons). However, these are all topics about which teens are curious. Though the book has an intended audience, a variety of readers will appreciate it. VERDICT An insightful option for those with questions about what it's like to be LGBTQ.—April Sanders, Spring Hill College, Mobile, AL
One of you readers sent me a link to an interview that the parents' rights group Mass Resistance did with a librarian about the book being available for kids. Here is an NSFW page in which Mass Resistance presents photographs taken from the book, which instructs (with drawings) young readers how to have gay sex, including anal sex, oral sex, and mutual masturbation. Here's a safe snapshot:
Is it a good idea to have books in the kids' section of a library teaching young readers how to have boy-on-boy sex (or boy-on-girl sex for that matter)? The interviewer spoke to the top county librarian in a Wyoming town where some parents are asking the library to remove the book from its shelves. From the interview Ben, a local activist, did with Terri, the librarian:
Ben: OK, I'll bring it back to books: Do you think it's appropriate to teach a 10-year-old child how to have anal sex?

Terri: Well, what do you think? What do you think the answer to that is? That's kind of an insulting question. So I don't know. I'm not even going to answer it.

Ben: Well I would really like to know, because there are actual books in this library which do that very thing.

Terri: Has a 10-year-old ever had that happen? That's such an extreme viewpoint.

Ben: Why is it being introduced in the books in the library, then?

Terri: Because there are books in the library, and sometimes, I don't know, I don't even know how to answer that. This is such an insulting question, it's hard for me.

Ben: Well, do you see where I'm coming from, though, because that is actually in the children's section in this library.

Terri: I haven't seen it. I can't tell you any opinion until I've read the book and seen it in context. I don't know.

Ben: Well, I'm not sure how it's insulting if you can't even answer it. That's where I'm coming from and I'm surprised by the reaction. It just seems like such an obviously wrong thing to me.

Terri: I have to see it to believe it. So I haven't seen it yet.
Good for Ben and his colleagues. I just checked my county library system, and there are copies of this book all over. In the future, we will be judged harshly for what we did to our kids in this era.