What Did The Cardinals Know?
McCarrick's secrets and trust among princes of the Church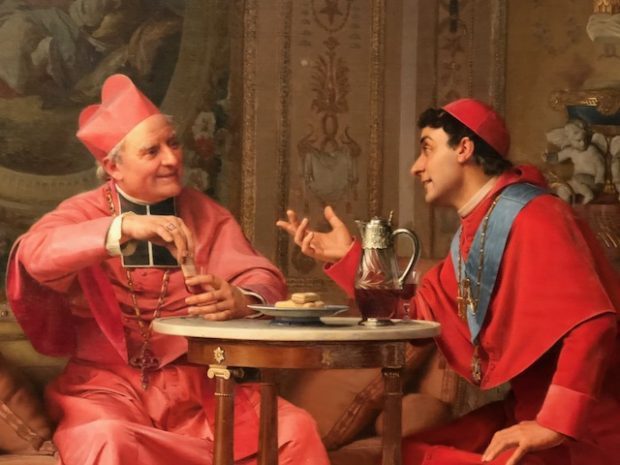 The Washington Post writes about its retired hometown cardinal, Uncle Teddy McCarrick.
Once a globe-trotting representative of the Catholic Church worldwide and one of the architects of the church's policy on sexual abuse, McCarrick's precipitous fall over the past month has shocked Catholics, especially in Washington, where he was a popular archbishop from 2001 to 2006.

McCarrick's future now rests with Pope Francis, who as pontiff oversees the cardinals. Many church-watchers think this is a make-or-break moment for Francis because of McCarrick's stature and the fact that Catholic clerical sex-abuse crises are exploding in Chile and Honduras.
It is, or ought to be. McCarrick has long been said to be close to Francis. As I wrote the other day, McCarrick's longtime friend and protege, Bishop Kevin Farrell, was made a cardinal by Francis and made head of the Vatican's office in charge of family policy for the worldwide church. Farrell has endorsed Father James Martin's book advocating affirmation of LGBTs in the Catholic Church, and is overseeing next month's world family meeting in Dublin, where Father Martin will give a keynote speech.
However innocent he may be of wrongdoing — and nobody has accused him of anything wrong — Cardinal Farrell cannot escape the shadow cast by the black McCarrick cloud. Here is Cardinal Farrell's coat of arms:
Catholic bishops traditionally have a coat of arms designed for themselves. According to the Catholic Scouting site in Dallas, which posted this when Farrell was moved from an auxiliary role in the Archdiocese of Washington to run the Diocese of Dallas, here's the explanation of the symbolism of Farrell's coat of arms (the jargon here is terminology specific to heraldry):
 The lion rampant honors Theodore Cardinal McCarrick, Archbishop emeritus of Washington, and the Irish sept of O'Farrell. In the upper portion of the shield, gold (yellow) and the lion (red) are derived from the Arms of Cardinal McCarrick, whom Bishop Farrell assisted as Auxiliary Bishop of Washington. [Emphasis mine — RD].
What did Cardinal Farrell know about Cardinal McCarrick's past? Was he as shocked as everybody else to learn all this about his mentor and patron? I can't see how Cardinal Farrell, given his closeness to McCarrick and his key role directing the family policy office for the Vatican, can avoid addressing these questions directly.
And what about Cardinal Tobin? As I wrote the other day, McCarrick's influence with Francis is believed to have been behind the swift rise of Archbishop Joseph Tobin on Indianapolis, who was created a cardinal by Francis, then moved to Newark, McCarrick's old see. Veteran Catholic journalist Rocco Palmo, who is not a partisan, wrote after Tobin's move to Newark:
As reported at the top, multiple signs point to Newark's fourth archbishop [McCarrick] as the lead architect behind the choice of his second successor. Having maintained an enduring devotion for and among the Jersey church since his transfer to the capital in 2000, McCarrick – who Francis is said to revere as "a hero" of his – made a direct appeal over recent weeks for Tobin to be named to Newark, according to two sources familiar with the cardinal's thinking.
In the Post story, a church spokeswoman said:
Friedlander said the current Newark archbishop, Cardinal Joseph Tobin, "has expressed his intention to discuss this tragedy with the leadership of the United States Conference of Catholic Bishops in order to articulate standards that will assure high standards of respect by bishops, priests and deacons for all adults. We can confirm that the highest level of the Holy See is investigating a number of points raised in the ongoing questioning."
You know what Cardinal Tobin is not saying? What, if anything, he knew about McCarrick before he took over in Newark. He surely knew about the 2004 and 2007 settlements made within his archdiocese. Why is Cardinal Tobin not demanding to seek justice for all those who have been abused by McCarrick? It's repulsive that all he can talk about is jabbering with other bishops about "articulat[ing] standards that will assure high standards," yadda yadda. Given the horror of what McCarrick did, this kind of bureaucratic rot is intolerable.
This came into my e-mail box tonight from a reader:
I am so repulsed by this entire situation.  I have known about this for well over 20 years.  Many years ago I had an acquaintance (the friend of a now-deceased friend) who was a seminarian at Seton Hall in the mid-late 90s.  By the time I knew him, he had already left the seminary and moved on to other opportunities.  But he was so deeply disturbed by the things that he had witnessed in seminary that he discussed them fairly openly.  While I believed he was telling the truth, I didn't know what I could do with such information.  He felt the same way.  He knew all about "Uncle Teddy's Funhouse", the shared beds, the trips to the shore house, the unwanted touching, inappropriate comments, etc.  He himself had been invited to the shore house on a couple of occasions, although he didn't actually sleep with McCarrick.  He told me that it was well known among the seminarians, and that you knew there was a reason you were even invited to the house.  Even so, none of them felt that he could refuse the invitation.

This young man told me stories both in person and in emails.  Unfortunately, the emails were sent to an old account of mine which has been deleted, and to which I no longer have access.  I haven't spoken to the former seminarian since our mutual friend died some 18 years ago.

Even so, his words have stuck with me, and there have been many times when I've wondered if I should have spoken out.  I always opted not to because I had no proof and my acquaintance hadn't been willing to speak on record.  But that's just it–if someone like me has known about these abuses for 20 years, there have to be MANY people (both laity and in positions of authority) who have also known.
Readers, I heard that same kind of story many times about Cardinal McCarrick back in 2002, when I was working in New York and writing about it. People knew. One of my sources telling these stories was New Jersey priest Father Boniface Ramsey, whom I couldn't persuade at the time to go public. He did go public in an interview with The New York Times a couple of weeks ago, and he also spoke to the Post for its story:
In March 2015,  Ramsey said he ran into McCarrick at the funeral of Cardinal Edward Egan of New York City and became upset that the cardinal was still out and about, he said. He wrote a letter a few months later to Cardinal Sean O'Malley of Boston, one of Francis's key advisers on preventing clerical abuse, saying the issue was about "a form of sexual abuse/harassment/intimidation or maybe simply high-jinks as practiced by Theodore Cardinal McCarrick with his seminarians and perhaps other young men" when ­McCarrick was in New Jersey.

Within a few days, Ramsey received a note back from the ­Rev. Robert Kickham, O'Malley's secretary. O'Malley, Kickham clarified, as president of the Pontifical Commission for the Protection of ­Minors, is responsible for "evaluating child protection policies and procedures . . . and to offer recommendations to improve" those policies. Commission members don't review individual cases that fall under local authorities, he wrote. "Please know of our appreciation for your care and concern for the good of the Church and the people of God."

Ramsey provided copies of his letter to O'Malley and Kickham's response to The Post. O'Malley and his spokesman declined to comment.
Unbelievable! Father Ramsey took the risk of telling a Cardinal — not just a cardinal, but the cardinal who is one of Pope Francis's inner circle of advisers, and the chief cardinal in charge of protecting minors from sexual abuse — that Cardinal McCarrick is a rampant sexual abuser of seminarians and priests. And what is Cardinal O'Malley's response? To say it's not his responsibility.
These bureaucrats, I swear. Father Ramsey took a big risk to try to handle this within the Church, but the best he could get from Cardinal O'Malley is the clerical version of, "Sorry, that's not my table."
No wonder Father Ramsey got fed up with these red-hatted men, covering up for each other, and contacted the Times. God bless him.
Three cardinals — Farrell, Tobin, and O'Malley — have some explaining to do.
UPDATE: I took out a paragraph in the original post. It was a little too raw. I swear, nothing gets to me like this stuff. These men — these cardinals, these bishops — are supposed to be fathers, not butt-covering bureaucrats who care only about seeming to be something than actually being it. And the lives and fates, and the faith, of ordinary people — children, their families, seminarians, priests — get chewed up in the gears of the system. From today's Washington Post story, these words from James, whose abuse at McCarrick's hands started when he was 11 years old:
"What he did to me was he ruined my entire life. I couldn't break the hold. I couldn't live up to my ability — to stay employed, married, have children. I lost all those opportunities because of him," James said. Breaking into tears, he said, "I try to be a really good kid every day."
James is 60 years old. He's still trying to be a good little boy — the boy he was before Father Theodore McCarrick stole his innocence.
UPDATE.2: Reader Augustinus writes:
Farrell, Tobin, and one more big one. Cupich. McCarrick is a main reason Cupich is in Chicago. The last three American cardinals all owe something to the patronage or intervention of McCarrick.
Reader Fiestamom:
Compare Cardinal Tobin's milquetoast comment about McCarrick to his comments in June about illegal immigration.

"The latest developments are consistent with the sort of cardiosclerosis that has begun in our country, and it concerns across-the-board life issues," said Cardinal Joseph Tobin of Newark, New Jersey, who from the floor raised the idea of a bishop delegation to the border "as a sign of our pastoral concern and protest against this hardening of the American heart."

And here's O'Malley's statement about the border:(there was a bishop' s meeting in June)
Boston Cardinal Sean O'Malley, though not attending the conference, issued a statement saying that "the moral challenge of immigration is mounting for the United States."

"On too many occasions our government has taken a posture and established policy which is in principle and in practice hostile to children and families who are fleeing violence, gangs, and poverty," he said, adding "The United States is now openly before the world using children as pawns to enforce a hostile immigration policy. This strategy is morally unacceptable and denies the clear danger weighing upon those seeking our assistance."

O'Malley celebrated Mass on the Mexican border in 2014 with other bishops, and had this to say. "This is not just a political or economic problem,'' O'Malley said Tuesday. ''This is a moral problem.''

If only O'Malley thought child rape was a moral problem worth making a statement about!

I reworded Cardinal Tobin's initial statement using the current "tragedy".**