Ratification or Ruination: Election Night for Trump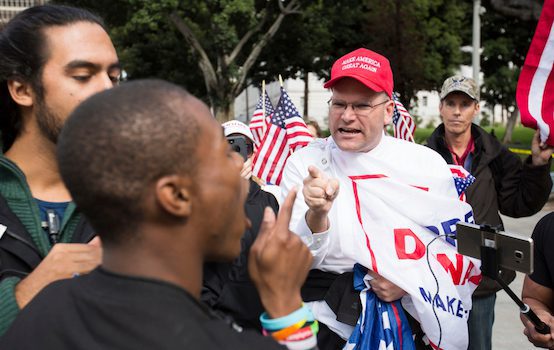 The Trump project, such as it is, will be on trial Tuesday.
"Everyone in the White House" thinks the House of Representatives is lost for the Republican Party, says one former senior administration official, who isn't so sure himself.
Certain or not, Election Day 2018 is finally here. And a Democratic Party organized around the Resistance is positively licking its chops.
Buoyed by an impressive 2017 landslide performance in Virginia and New Jersey (the off-off year elections that are traditionally harbingers of what's to come), Democrats look poised for a killing stroke.
Even senior Republicans, including many in the administration, fret that the momentum secured by liberal overreach during the brutal Supreme Court nomination fight over Brett Kavanaugh has subsided. In its place is a national mood dour over the massacre in Pittsburgh and the attempted bombings of top Democrats.
On the other hand, some Democrats caution against overconfidence. PTSD-afflicted liberals hope to avoid a 2016 redux and are worried that the president's dire rhetoric on immigration could buoy him to victory yet again, despite the fact he's done little to fix anything during his first two years in office.
So what will happen Tuesday? The truth—something confident prognosticators have mostly avoided in favor of gusto—is that there are a wide variety of possible outcomes.
A GOP hold of the lower chamber is eminently plausible, but a Democratic seizure of the Senate is also not inconceivable.
Below are three main scenarios and their consequences in descending order of likelihood.
Scenario One: Democrats take over the House, Republican hold (or even gains seats in) the Senate (60 percent chance of happening)
If pressed, this is the most likely outcome—in other words, a dark new political stalemate.
"It will be Stalingrad every day," if the Democrats take the House, Steve Bannon, the former White House chief strategist, told me last month. In this rendering of history, Democratic momentum is considerable enough to deliver the party past its overreach during the Kavanaugh hearings to its first midterm election victory since the dark days of 2006, when the Left seized on an increasingly swampy federal government, a murderous war, and a soon-to-be floundering economy.
For Americans, the real picture is not nearly as bleak as it was then, and polling shows that.
"It's not 2006 because Trump is above [George W.] Bush's approval and our side is fired up almost as much as the Democrats," a veteran conservative strategist told me over the weekend. However, he agrees with the White House that the House is most likely lost, which means it's incumbent on the Right to hold on to the Senate. "[In 2006], we had to win two of the three key races and we came up short," he said, whereas this year, "[we] need to win Texas, Indiana, and North Dakota, and I could see us blowing it in Tennessee or Texas."
Conventional wisdom is that Democrats are outpacing Republicans in voter enthusiasm. But most surveys show a striking near-parity in this regard. In the three main wave midterm elections of my lifetime—1994, 2006, and 2010—there has been a clear disparity.
Not so this time.
If a partial Democratic victory comes on Tuesday, it will have been in spite of this dynamic and the rip-roaring economy. The result will be that Democrats take on some responsibility—as well as risk of further overreach.
Already, polemics are flowing in arguing that Trump—the ultimate counter-puncher—could benefit from a real foil. With the exoduses of Joe Crowley, Xavier Becerra, and Chris Van Hollen in recent years, the House Democratic bench has been mostly emptied of plausible non-Nancy Pelosi alternatives. Pelosi is both older and more establishment-oriented than President Trump—and the White House could relish the fight. All told, despite this most unusual of presidencies, it's still a pretty standard political result for a new president.
Scenario Two: Republicans upset, holding the House and Senate (30 percent chance of happening)
"Read Sean Trende," a former senior administration official told me Sunday, referring to the RealClearPolitics analyst. "That's our plan to a 'T'—a two seat hold."
Trende writes of this possibility: "22 districts for Democrats, which is just enough for Republicans to keep control of the chamber. I don't think this scenario involves any races where I would truly be shocked if the Republicans win, and I could probably push further—without feeling delusional—for a scenario where Democrats pick up just 19 or 20 seats."
The result would be a Trumpism truly emboldened. Despite unprecedented invective hurled at this White House, this president's first two years would be essentially ratified. Never Trumpers, if they do not already, would feel permanently banished from the party. Immigration and security, the two issues the president closed on, would prove to have real potency in a 21st-century electoral landscape.
The implications for the Democratic presidential race in 2020—which will begin Wednesday, if it has not already—will be stark. The conversation could turn hard towards electability and away from purity. The anguish on the American Left will be palpable, and liberals could come to see America as lost for a generation.
Scenario Three: Democrats take over the House and Senate (10 percent chance of happening)
This is the apocalypse scenario for the administration. A president overseeing a (relatively) successful foreign policy and fairly strong economy would be broadly and clearly rebuked.
His rank unpopularity in the nation's cities would have bled into most suburbs and beyond. His legitimacy would be broadly in doubt. Serious conversations would begin as to whether Trump will even seek re-election. An impeachment effort of some sort would be an afterthought. If the administration fights back—nearly assured—the political discourse would plunge even lower. Beto O'Rourke could be a senator.
1600 Penn has to be hoping against this outcome Tuesday. It's the only one that would immediately throw Trump's reelection into extreme doubt.
Curt Mills is the foreign affairs reporter at The National Interest, where he covers the State Department, National Security Council, and the Trump presidency.
Latest Articles