Politics
Mr. Adams Goes to the Border
Eric Adams is telling truths about the border many in his party don't want to hear.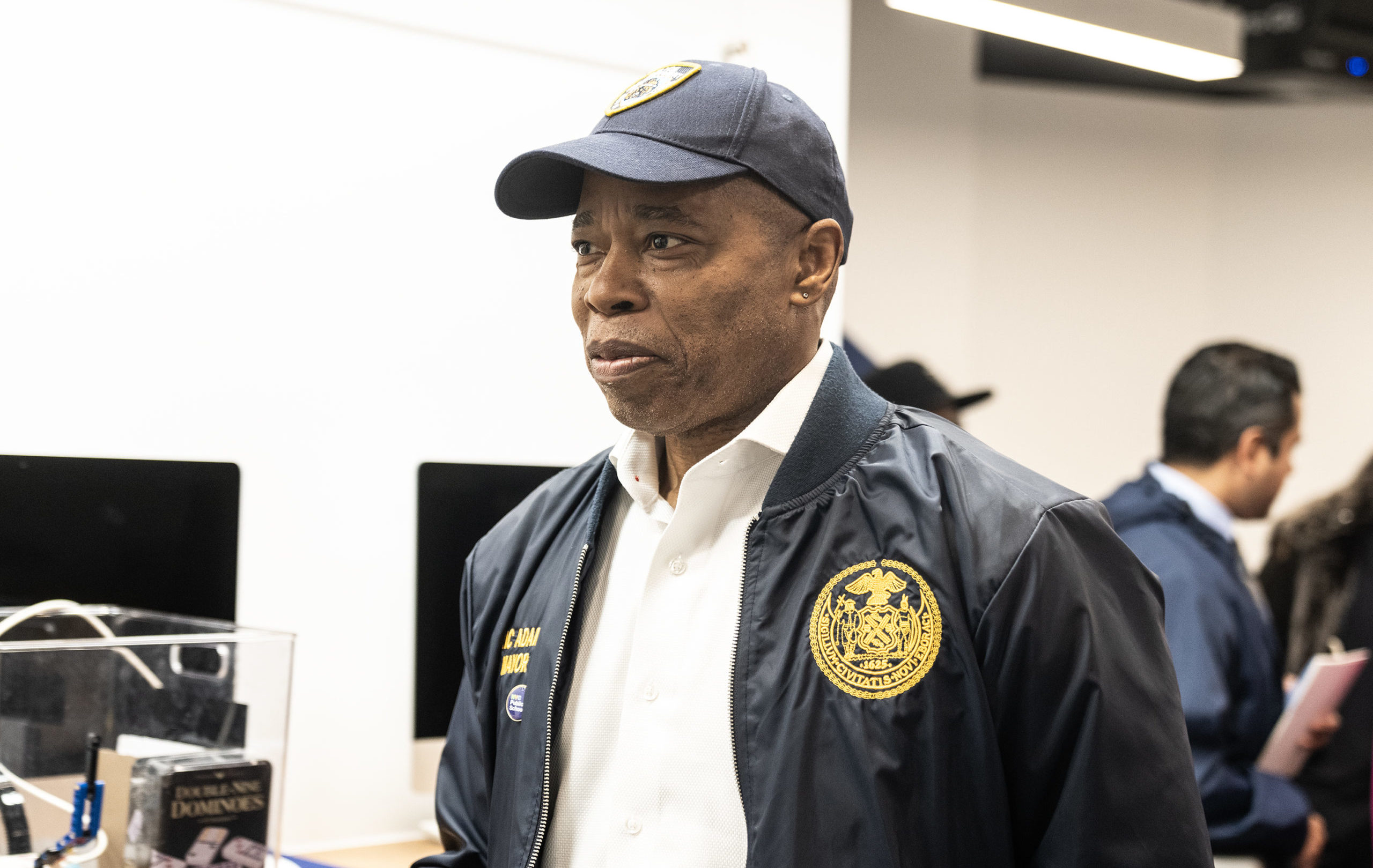 (Photo by Lev Radin/Pacific Press/LightRocket via Getty Images)
As if New York City's homelessness, vagrancy and mental-health crises weren't troubling enough, a new group of needy people are now trawling the streets for change and any other help they can get. They are migrants who have crossed the southern border and been bussed to Gotham by authorities tasked with reducing the pressure bearing down on border states by circulating the newcomers elsewhere.
The added burdens prompted Mayor Eric Adams to visit El Paso, Texas, over the weekend, where he vowed "to pressure the federal government for assistance handling the migrant crisis," as Politico reported. Let us hope President Biden gets the message: that it is of the utmost urgency—for the sake of border areas, blue states and cities, and the migrants themselves—to close the gates to trafficked "asylum seekers" at the border.
I ran into a migrant in the predawn hours of Monday as I headed to my corner bodega for a cup of machine oil-cum-coffee to go with the day's first cigarette. It was 28 degrees, according to my weather app. There was no one else on the street save for the headless, limbless man planted outside the bodega. I say headless and limbless, because the poor man had withdrawn, turtle-like into his parka as a flimsy defense against the unspeakable cold.
"Papa, spare change?" he asked as my steps startled him out of hibernation, his head emerging from his inadequate turtle shell. After a beat, he added: "Venezuela." I didn't have any change in my wallet, and my attempts to extract his story proved futile, because—and this is the migrant giveaway—he seemingly knew no English words other than "spare change." Your run-of-the-mill Big Apple vagrant, by contrast, will happily talk your ear off.
This was my second encounter of the kind in as many months. Some 40,000 crossed the southern border and made their way to New York City. And while that is a fraction of the more than 1 million illegal immigrants released into the country just last year, City Hall clearly views the deluge as unsustainable. "This has fallen on our cities," Adams said in El Paso. "And I am now going to coordinate my mayors across the entire country to say: How do we respond to this?"
New York City spent nearly $400 million on "asylum seekers" in 2022, a figure that could rise to $2 billion by this summer, warns Adams. Meanwhile, the city has received just $10 million in federal appropriations so far to offset the titanic bill. Adams largely framed his border message around the need for more federal assistance. Yet his criticism of the underlying Biden policies that have created the situation was no less real for being implicit. It is notable, too, that Adams went out of his way to tell migrants that they will not find streets running with milk and honey once they arrive in Gotham.
Subscribe Today
Get daily emails in your inbox
All this harkens back to the pragmatism that got the former NYPD officer elected in 2021, largely thanks to support from working class voters of color and white ethnics in the outer boroughs. No wonder progressive groups are irate. Said Jose Lopez of the open-borders advocacy group Make the Road New York: "Instead of trying to play 'national political figure,' the mayor should be in our city, focused on solving the real problems facing New Yorkers—including the need for truly affordable housing, tackling homelessness, and ensuring that everyone, regardless of their immigration status, has access to the services they need."
Adams would—rightly—retort that stanching the flow of tens of thousands of irregular migrants is part of "solving the real problems facing New Yorkers." This is not least because once here, they either end up freezing on the streets, like the young men I've chanced upon crouching on my block, or else fortify the army of vulnerable workers subject to total exploitation in the shadow economy.
Biden's current policy is a boon to no one but human smugglers. The vast majority of those crossing illegally are economic migrants lured by the false promises of trafficking networks, threatened with rape and death while trekking north, and facing utter misery once they arrive. There is nothing progressive about any of these outcomes. Kudos to Mayor Adams for telling these truths while too many others in Biden's party keep mum.