Events
ISIS May Expel Iraq's Christians for Good
The Islamic State in Iraq and Syria, ISIS, has recently overtaken the major Iraqi city of Mosul, causing an exodus of more than 500,000 that took some of Iraq's last remaining Christians with it. The city itself, mentioned in the Bible as Nineveh, has harbored Christianity since the very dawn of its tradition and was […]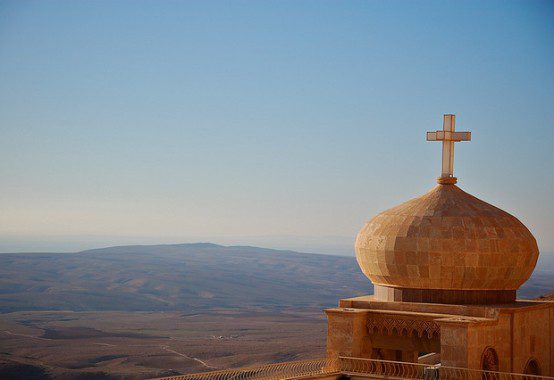 The Islamic State in Iraq and Syria, ISIS, has recently overtaken the major Iraqi city of Mosul, causing an exodus of more than 500,000 that took some of Iraq's last remaining Christians with it. The city itself, mentioned in the Bible as Nineveh, has harbored Christianity since the very dawn of its tradition and was one of the last havens for Iraqi Christian communities.
Despite these deep roots, past U.S. policy has ignored the vulnerable position of Christians in the Middle East. Andrew Doran wrote a strikingly prescient piece for TAC almost exactly one year ago, saying:
[D]emocracy in the Middle East is proving less tolerant than the regimes it has succeeded. Unless swift action is taken, these democracies will evolve into bastions of intolerance and violence beyond our comprehension. These democracies will not march ineluctably toward liberty and pluralism, as some naïve optimists continue to forecast despite the evidence, but will end in the ordered barbarism of Saudi Arabia, where punishments include beheading and crucifixion[.]
As it so happens, ISIS is the jihadist organization renounced by al-Qaeda for its brutality. Maliki's abusive government, propped up by $20 billion in American aid, allowed Mosul to be claimed with alarming ease. One CNN article reports that "[p]olice and soldiers ran form their posts rather than put up a fight, abandoning their weapons as they went. The militants took their place in the city's boulevards and buildings." Marc Lynch of the Washington Post argues that the Iraqi military isn't resisting is because Maliki has lost its loyalty:
The most important answers lie inside Iraqi politics. Maliki lost Sunni Iraq through his sectarian and authoritarian policies. His repeated refusal over long years to strike an urgently needed political accord with the Sunni minority, his construction of corrupt, ineffective and sectarian state institutions, and his heavy-handed military repression in those areas are the key factors in the long-developing disintegration of Iraq.
If ISIS succeeds, the regnant regime will be the "ordered barbarism" Doran foretold. In the hierarchy of a new caliphate, there will be no room for diversity or religious tolerance; there will no longer be any room for Christianity. According to a World magazine report, most of the Christians, so long a presence in Mosul, have already been driven out:
"Ninety-nine percent of the Christians have left Mosul," pastor Haitham Jazrawi said today following the takeover of Iraq's second largest city—and its ancient Christian homeland—by al-Qaeda-linked jihadist militants.
Catholic Archbishop Amil Shamaaoun Nona is reported to have said that the decline has been occurring since the U.S.-led campaign began. "In 2003 there were still 35,000 faithful living in Mosul," Nona said. "Three thousand were still there in early 2014. Now probably not one is left here, and that is tragic[.]" According to Nina Shea of the Hudson Institute notes that, once the Christians are gone, they may not be coming back:
When the army does eventually succeed in reversing jihadi control in Mosul, it may be too late for the Christians. Once Middle Eastern Christians flee to the West, they don't return.