Politics
Grapple for the Gavel 2.0
Is the former wrestler poised to take down Kevin McCarthy's heir apparent? The American Conservative spoke to House Republicans on what they're looking for in the next Speaker of the House.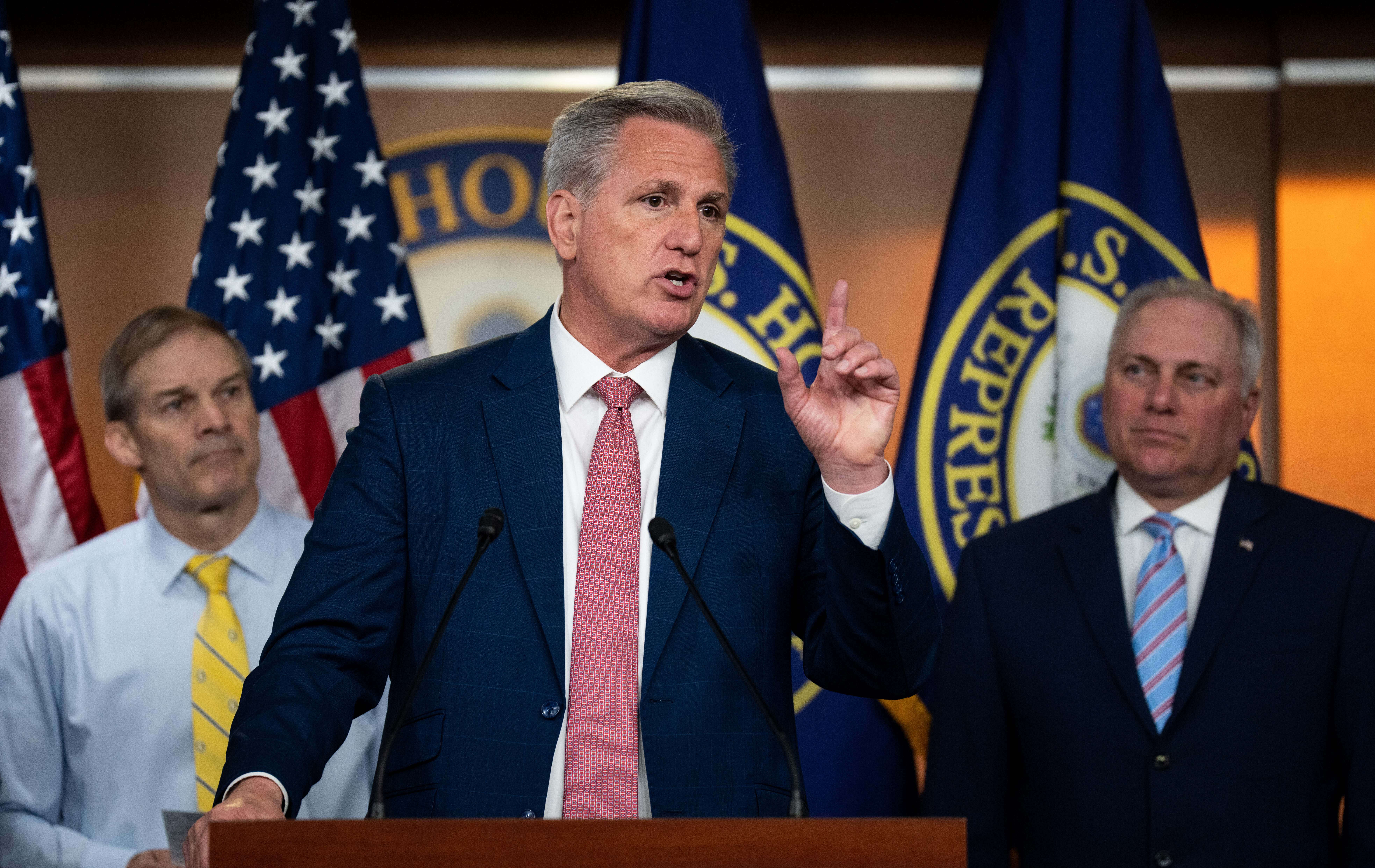 "I will not run for speaker again," Rep. Kevin McCarthy, who had just been removed as Speaker of the House by a motion to vacate filed by Rep. Matt Gaetz of Florida and supported by seven other House Republicans, told reporters Tuesday. "I'll have the [Republican] conference pick somebody else."
Who that "somebody else" may be is yet to be determined. As it stands now, the House plans to return on Tuesday to debate about potential candidates and vote to fill the vacancy left by McCarthy Wednesday. The American Conservative spoke to several House Republicans about what kind of qualities they're looking for in the next speaker, their chosen candidate, and what else could be afoot with the impending shakeup to Republican leadership.
In the hours after McCarthy's ousting earlier that day on October 3, most members of the Republican conference were focusing their ire on the eight members who voted to remove McCarthy from his post. Capitol Hill held its breath to see if the ousted Speaker would grasp once more for the Speaker's gavel, which had since fallen into the hands of Rep. Patrick McHenry of North Carolina, who used it cartoonishly once to adjourn the House for the following week.
"Once we left the house floor after the successful vote to remove the Speaker, I began to assemble with a few dozen of my colleagues," Rep. Bob Good of Virginia told TAC via a phone interview. "It was unanimous that they would not support [McCarthy] if he were to try to run. He wouldn't have the votes and he shouldn't do it. I don't know how widespread it was beyond those few dozen. And I don't know if he got counseled out of the fact or realized he wasn't going to get there and people were ready to turn the page."
Speaking to TAC over the phone, Rep. Matt Rosendale of Montana told TAC he's "glad" McCarthy is not running for Speaker again. "I think [McCarthy] recognized, he started hearing conversations, I'm guessing, that there were other people that were ready then to run for Speaker, which in January, we just weren't able to get those folks to step up," Rosendale explained. "They, I firmly believe, just feared for retribution. They weren't ready to step up yet. But once he was removed, they were because his tenure had come to an end."
In email correspondence with TAC, Rep. Lauren Boebert of Colorado said that she was "somewhat surprised that [McCarthy] didn't put up a stronger fight to defend himself before being ousted."
However, I'm not surprised at all that he doesn't want to run again," she added. "McCarthy bears sole responsibility for his removal. In January, he lacked the votes to become Speaker, so he struck a deal with many members of the HFC, promising actions like impeaching Biden, passing individual spending bills instead of continuing resolutions or omnibus packages," Boebert explained. "He failed to deliver on these promises, resulting in a significant victory for House Democrats. When someone secures a job based on promises and fails to fulfill them, their termination is self-inflicted."
Yet, in the vote to remove McCarthy, Boebert voted "no for now." TAC asked her about her choice of words, to which Boebert replied, "'no for now' wasn't a vote in support of the Speaker; it was a vote against the timing of the measure to remove him. We are just 40 days away from a government shutdown, and the top priority is passing 12 individual appropriations bills to reduce government spending, prevent a shutdown, secure our borders, and prioritize America's interests." Boebert directed TAC to her previous statement in which she explained, "seeing as legislative days were added to pass the remaining eight appropriations bills to properly fund the federal government, I didn't want to spend valuable time on a long, protracted Speaker fight."
Rep. Byron Donalds of Florida, however, was "not surprised": "Speaker of the House is an incredibly difficult job. Our conference cannot go back after last week. We must look ahead to solving the key issues facing our nation."
McCarthy's announcement that he would not be running for Speaker again sparked a chain reaction that has since consumed the southern side of the Capitol complex. Members started floating names that could potentially place McCarthy, such as Majority Leader Steve Scalise, Rep. Mike Johnson of Louisiana, Rep. Jodey Arrington of Texas, Republican Study Committee Head Rep. Kevin Hern of Oklahoma, Rep. Jim Jordan of Ohio, and, as TAC reported, Majority Whip Tom Emmer of Minnesota.
"We need a leader with the basic qualities of leadership," Good stated plainly when asked what qualities he's going to be looking for in the next Speaker of the House. "Someone who is trusted by the conference, and someone who is a fighter, and understands negotiations and leverage and that will fight for more than just trying to become Speaker."
But Good is not ignorant of the political realities that currently constrain the Republican-controlled House. "With a majority in just the House, we're not gonna get everything we want, but we better get some things that we want and a negotiated compromise shouldn't mean just do what the Democrats want, which has been the history of the Republican Party now for 30 years," said Good.
Rosendale echoed Good's call for a trustworthy Speaker. "Trustworthiness is absolutely the most vital trait that anybody can have up here [in Washington]," Rosendale claimed. "This is what we tried to express nine months ago. Kevin will make any kind of a promise. He'll make a promise to you, but he'll turn around and make another promise to someone else, which completely negates your promise."
"The next thing I'm looking for is leadership and vision," Rosendale explained, "a vision of where we want to go, and the ability, the leadership ability and skills to organize the group and help pursue it. You have to be able to incite enthusiasm in your vision."
By early Wednesday, Jordan announced his candidacy to be the next speaker of the House. The Chairman of the House Judiciary Committee circulated a "Dear Colleague" letter to members of the Republican conference asking for their support for his candidacy:
We are at a critical Crossroad in our nation's history. Now is the time for our Republican conference to come together to keep our promises to Americans. The problems we Face are challenging, but they are not insurmountable. We can focus on the changes that improve the country and unite us in offering real solutions. But no matter what we do, we must do it together as a conference. I respectfully ask for your support for Speaker of the House of Representatives.
As for those challenges, Jordan listed "soaring crime across the country," "open-border policies that have caused chaos and left our country vulnerable," "double standards in federal law enforcement," and, of course, "get[ting] our fiscal house in order" as the government stares down another potential government shutdown when the continuing resolution expires on November 17.
Meanwhile, Scalise was busily calling colleagues and met privately with Texas' twenty-five-member House GOP delegation about throwing his hat in the ring for Speaker of the House. That afternoon, Scalise announced his desire to replace McCarthy as Speaker of the House. In a "Dear Colleague" letter of his own, the Louisiana congressman made an emotional appeal to House Republicans rooted in the shooting by a left-wing lunatic at a Congressional Baseball Game practice in 2017 that almost took Scalise's life.
"I know the coming weeks ahead will be some of the most arduous times we will face together, but this Conference is worth fighting for – we cannot lose sight of our shared mission. Now, more than ever, we must mend the deep wounds that exist within our Conference and focus on our objectives so we can get back to work for the millions of people who are counting on us," Scalise wrote. "It is with that sense of responsibility and purpose that I am seeking the Conference's nomination for Speaker of the House."
Just prior to Scalise's announcement, however, Scalise said that Emmer, the House GOP Whip that was working the phones as he considered a run, "would be a great speaker." Emmer was gearing up to do just that until Scalise made a play of his own, causing Emmer to quickly back Scalise and shift his focus to a bid for Majority Leader.
Some were less enthused by Scalise's bid. One unidentified member of the Freedom Caucus told NBC News that, "since conservatives are concerned about the poor scheduling of appropriations bills this year, why would we elevate the person in charge of the schedule, the majority leader, to speaker?"
As for getting new blood not only into the GOP's House leadership but atop it, Good told TAC, "I do think that would be ideal, but that is difficult."
"Those who would have influence, stature, credibility within the conference in terms of being perceived as someone who'd get 218 are part, to some degree at least, of the leadership structure, whether they're a chairman or they're the majority leader, or a major caucus leader or something to that effect," Good continued. Nevertheless, "deposing the speaker was a tremendous blow to the swamp cartel and the uniparty establishment structure in Washington," because "it's much bigger than just a Speaker. This system, this place, this institution is designed to prevent change. There's a lot of people who are benefiting from that system and are invested in that system, and so we need disruption in Congress."
Jordan was receiving endorsements of his own from Reps. Jim Banks, Thomas Massie, and Darrell Issa, among others. Later, Jordan would also receive the endorsement of former President Donald Trump.
Banks tweeted out his support for Jordan's bid, writing, "When it comes to negotiating on behalf of the House GOP Majority with the Senate and White House, I can't think of anyone stronger than @Jim_Jordan to be our next Speaker of the House. He never backs down and has my full support."
TAC spoke to Massie over the phone about his endorsement of Jordan's candidacy. "I've served with Jim Jordan on the Oversight Committee and on the Judiciary Committee, and what I've noticed is that he runs it almost like a sports team," he said. "And he's a good coach. He gets everybody to perform to the best of their abilities."
When the Judiciary Committee is planning a hearing, Massie said, Jordan "figures out a batting lineup" that will best challenge witnesses and build a strong narrative for Republicans, rather than going in the order of seniority. "I think the whole conference would benefit if we had somebody like that as Speaker," Massie asserted.
Jordan, Massie believes, also understands that the discovery and fact finding that goes on in GOP run hearings, whether about the border or the Biden family, needs to be followed by legislation. "I would love to have Jim Jordan deciding which of those reforms comes to the floor and actually gets a vote," Massie said.
"Jim Jordan will be able to understand what's going on in Judiciary and Oversight, having been chairman of those committees and participated on those committees," Massie explained. "And I think he can weave in whatever's going on in those committees with the rest of the conference…. He doesn't mince his words. He doesn't stutter. He is able to express his thoughts clearly. And I would love to have somebody who's covering all of our issues for our party who can communicate that well as the Speaker."
As for the qualities Issa was looking for in a Speaker, the California Congressman told TAC, "we need to have somebody, because of some of the comments made about our former Speaker, that everyone knows that what they say they will do in a way in which no one can accuse the new Speaker of being slippery or not having the courage of his convictions." Issa believes Jordan fits that description, but that's by no means a slight to Scalise, whom Issa says "is also somebody with a pretty solid reputation."
"To paraphrase William F. Buckley, we need the most conservative candidate that can win," Issa claimed. The House GOP agenda, Issa said, "is clearly going to move to the right." That gives Jordan an advantage, Issa claimed, "mostly because Steve is already part of the establishment. If what we've done so far is unacceptable to people on the right, then, quite frankly, he's unacceptable."
"If you want change, vote for change," Issa said, further explaining why a Scalise candidacy might not be acceptable to some conservative members of the conference. "Steve and everyone down ticket there, whether we like it or not, was part of whatever their dissatisfaction was that led to the Speaker's ouster." Some conservative members might be "Never Scalise" as they were "Never McCarthy," "and that puts us right back where we were before, and were going to have to try to find that out in conference," Issa told TAC.
Issa believes Jordan is the most conservative candidate that can win because through his support for McCarthy in the initial Speaker's fight in January and during the motion to vacate, Jordan has put himself in a good position by "hav[ing] a foot in both camps."
There appears to be credence to what Issa says, given House Freedom Caucus members and other aligned members have also come out in support of Jordan's candidacy. "I support Jim Jordan for Speaker of the House," Donalds told TAC via email. "At the end of the day, we are going need somebody who can lead our conference going forward and get us prepared to keep a majority going into 2024."
"Jim Jordan can step right into our top leadership spot, get us back on track, and lead our conference. He has been at the center of our nation's political battles for quite some time, and he knows the pitfalls," Donalds wrote. "I think it's time that we do have a sea change with respect to leadership in the Republican party on Capitol Hill. I have a lot of respect for my friend and colleague Steve Scalise, but I think the time has come for Jim Jordan to assume the gavel and become the next Speaker of the House."
Boebert told TAC that "I am seeking a Speaker who embodies honesty, strength, that is committed to draining the Swamp, that will cut federal spending fueling inflation, and that will take real action to get the country back on track."
"To address the needs of our nation," Boebert continued, "it is imperative to pass twelve individual appropriation bills, ensure border security, and deliver tangible results for the American people. These demands are not exclusive to the HFC; they are essential for everyone in our country."
As Boebert claimed, the first task of the new Speaker of the House will be ensuring GOP priorities are protected while avoiding a government shutdown, further temporary funding measures, or an omnibus towards the holidays. Massie told TAC that at this juncture, "when you vote for the next Speaker, you're voting for a package. You're getting a speaker plus a game plan for getting us through the appropriations process."
"I think Jim Jordan has a good plan," Massie claimed. "He wants to take advantage of the one percent cut that I suggested that got put into the debt limit deal this summer. There's a one percent cut signed into law that happens in January and takes effect in the spring if we don't have the twelve separate bills done."
"If you have something as cataclysmic as the shutdown," Massie continued, "you lose a lot of the conference… I think Jordan has a plan to use that as an incentive instead of a shutdown as an incentive to get us to twelve separate bills."
"If we elect Jim Jordan, I believe we can move all the appropriations bills, if not in six weeks then close to it," Issa said of the looming deadline for the continuing resolution. However, passing the appropriations bills is just the beginning of the difficulties the new Speaker will face. "I believe after we move them on to the Senate, the Senate will likely cram us with a completely different bill," Issa said. "Therein lies the dilemma. A possible shutdown, not because we didn't pass twelve bills or substantially twelve bills, but a shutdown because the Senate is so different from the House." Negotiating with the Democratic Senate, Issa says, could trigger another motion to vacate if some members of the House are displeased.
To avoid another motion to vacate, Issa suggested that the House might consider keeping the rules agreed upon in January by McCarthy and House conservatives but tweak the threshold of members needed to trigger a motion to vacate. "I've said this, a little bit tongue in cheek, but the number is not a bad alternative: You should not be able to have a motion to vacate with any less than the number of Apostles."
"We're not talking about a big number, but one is just too little," Issa claimed.
Good has a different view of those requesting to scrap or alter the current rules governing the motion to vacate, however. Their arguments remind Good of efforts to pack the court, scrap the filibuster and pack the Senate by adding D.C. and Puerto Rico as states, and the desire to scrap the electoral college after a presidential election "because we don't like these outcomes of how the institution is supposed to operate." Those kinds of reforms "are dangerous, dangerous things to do."
For Donalds, the Speaker's fight "is not about commitments."
"Conservative members must have trust that the next Speaker of the House will fight hard on key issues like securing the border, energy independence, and cutting government spending," Donalds said. "The next Speaker will need that trust and belief to win their votes."
During the Speaker's fight in January, Rosendale claimed, "All I wanted was to restore Congress to its status. I wanted to be able to have that rules package passed so that we could have 72 hours to review legislation, I wanted to be able to have single subject legislation, and I wanted to be able to have an open rule process so that we could bring all bills to the floor and propose amendments and discuss and debate and let the best ideas win. And so that's what I will be working to maintain, just make sure we keep the rules package in there. Because quite frankly, that is not some radical idea or a deviation from the norm. It is nothing more than a restoration of the pre-existing conditions of Congress, before we had this disgraceful consolidation of power."
Rosendale has yet to endorse a candidate for Speaker of the House. "Look, there are so many very intelligent, highly qualified individuals that are ethical and stand on integrity that I can consider," Rosendale told TAC. "And so what I'm going to do is wait until Tuesday, and see. So we're going to have, you know, whoever wants to audition, if you will, for the Speaker's position, come up there and speak to us all. And I want to hear that vision. I want to hear somebody who's going to incite me into enthusiasm, into getting some work done. And I want to know that when they give their word it is their bond."
Good hasn't endorsed a candidate for Speaker yet either. "I have resisted speaking to specific candidates. I don't plan to endorse anyone at this point," Good told TAC. "I jokingly said to a couple of candidates that reached out to me that I'm going to not do in their campaign by coming out now with public endorsement because invariably, there'd probably be some folks in the conference who'd say 'I'm not voting for Good's guy no matter what.'"
"But in all seriousness," Good continued, "I want to see them vetted, tested, challenged… So I'm gonna hold that and just resist any comments at this point on specific candidates."
For all the talk about the next speaker shoring up their rightward flank, this Speakers race might be determined by centrists and Republican House members elected in districts that President Biden carried in the 2020 election. This cohort, which backed McCarthy in January, also has the power to hold up a Speaker candidate that they do not approve of; however, while conservative members moved as a block in January, these members seem divided over whether Jordan or Scalise should lead the conference moving forward.
Rep. Anthony D'Esposito of New York told reporters that he believes Scalise, "understands what people in moderate districts need," according to POLITICO. Meanwhile, POLITICO reported that Rep. Kelly Armstrong of North Dakota has praised Jordan: "Who Jim Jordan is versus who I thought he was before I got to Congress are two completely different people. I've never seen anybody who works harder, prepares more and allows members … the opportunity and activity to engage and contribute to the team."
Subscribe Today
Get daily emails in your inbox
Just sixty of the 221 Republicans currently in the House have made public endorsements, according to CNN, which means that there's quite a lot of work to do for both Scalise and Jordan in their quest for 218 votes to win the speakership. At a closed-door meeting of the House GOP conference Monday regarding the Speaker vacancy, sources told TAC that neither Jordan or Scalise gave remarks in favor of their candidacy. One source familiar with the matter told TAC that there was a lot of residual tension and anger percolating about the conference; another said that the Monday evening meeting, "did little to move the needle in one way or the other."
Jordan and Scalise will make their pitch Tuesday evening at a candidate forum where either could emerge as the odds-on favorite to be the next Speaker—or not. At the aforementioned Monday , California Reps. John Duarte and Carlos Gimenez said they'd only vote for McCarthy. For McCarthy's part, he hinted he might be open to returning as Speaker on Monday morning in a complete reversal.
"I think that this is very healthy and constructive for the country, for the Congress, and for the Republican conference," Good told TAC. "We're going to have a competition to select a Speaker instead of a coronation."