Culture
Classical Architecture in the Capital
A pair of bills in the Congress would return Uncle Sam's buildings to a classical design.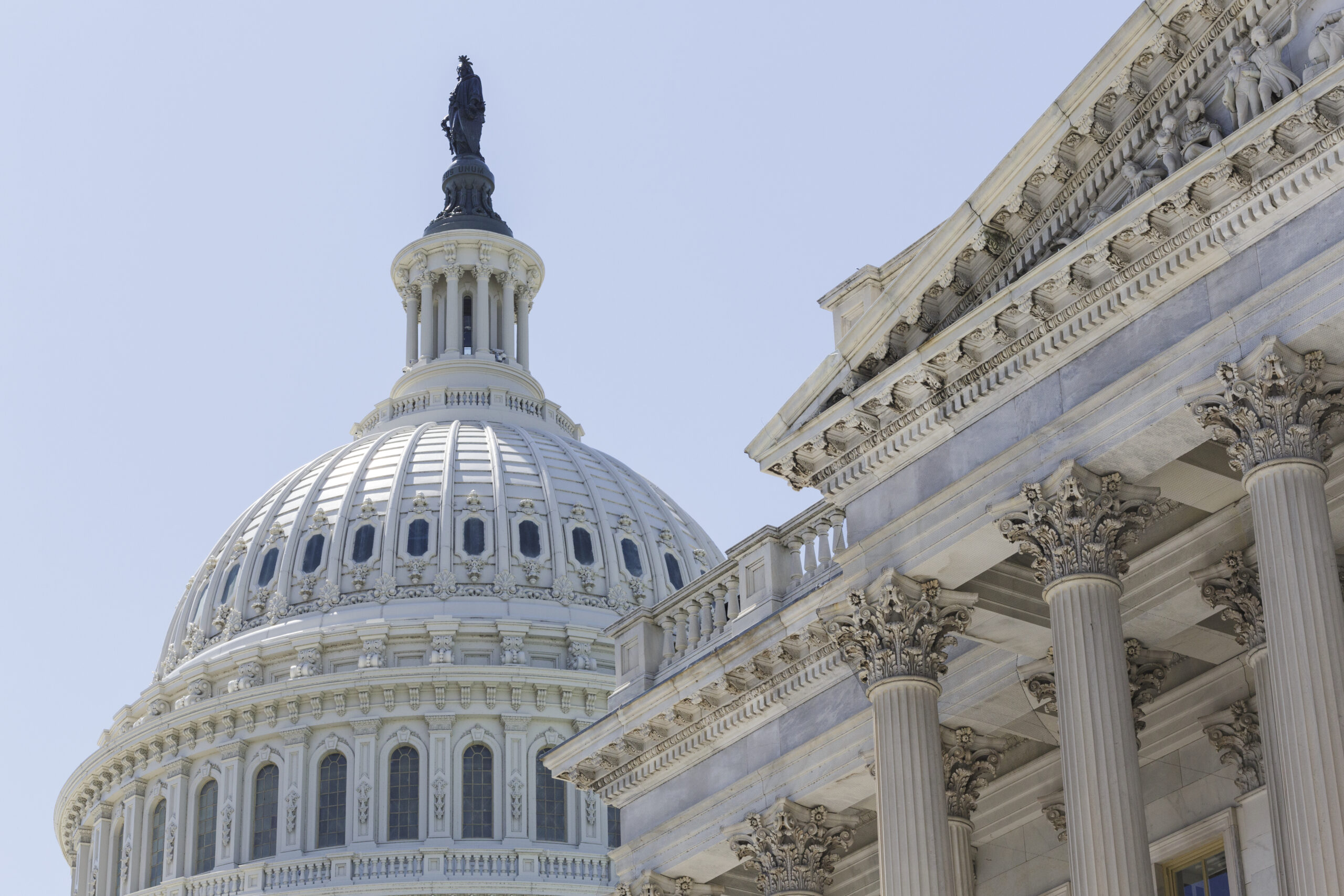 (Photo by James Leynse/Corbis via Getty Images)
My previous piece for The American Conservative concerned the mayhem postwar "urban renewal" wrought in Washington, D.C.'s southwest quadrant. A conspicuous feature of that mayhem is the Robert C. Weaver Department of Housing and Urban Development building designed by onetime Bauhaus luminary Marcel Breuer. Commissioned by Uncle Sam's real estate developer and landlord, the General Services Administration (GSA), and completed in 1968, it is a Brutalist pile entailing the diagrammatic fusion of curved masses that was a specialty of Breuer's. He had previously employed the technique at UNESCO's Paris headquarters and an IBM research facility in the south of France.
The Weaver building's frontages feature monotonous grids of square windows with steeply sloped sills. They rest on ugly, porcine supports, or pilotis, with narrow triangular slits. The space the building's principal front shapes along 7th Street proved so desolate that a landscape magician eventually had to be called in to clutter it up with what look like seven plastic flying saucers, or donuts, or frisbees, or lifesavers—take your pick—suspended on skinny poles, along with humongous circular planters with grass that double as benches.
HUD's headquarters is one of those benighted creations revealing the yawning gap between the sensibilities of the indoctrinated elites that have dominated postwar architectural debate and those of the general public. Accordingly, the architecture critic of the New York Times, in a brash display of arrogance and cluelessness, proclaimed the Weaver building "adds quality design and genuine twentieth-century style to a city badly in need of both."
As recently as two decades ago, the grim irony that the HUD building had gone up in an area where thousands of mostly black, lower-income residents had lost their homes—while the nation's capital had lost a historic neighborhood that, while afflicted with considerable decrepitude, was eminently suited to a restoration campaign—was still lost on the bright lights at GSA. The agency fulsomely praised this misbegotten structure in a 2003 publication "for taking the lead in the District of Columbia's Southwest Washington Development Area" and symbolizing "the federal government's commitment to urban renewal across the nation." Arrogance and cluelessness in spades.
Jack Kemp, George H.W. Bush's HUD secretary, spoke for common sense in describing the Weaver building as "ten floors of basement." So did President Obama's HUD secretary, Shaun Donovan, in noting that "the building is one of the most reviled in Washington—and with good reason." I have no idea what Kemp and Donovan would make of the bill introduced Tuesday by Florida Republican Sen. Marco Rubio that would reinstate classical and traditional architecture as Uncle Sam's preferred modes of building. But Rubio's Beautifying Federal Civic Architecture Act—co-sponsored by five other Republican senators and complemented by a House bill introduced late last month by Republican Rep. Jim Banks of Indiana—addresses that same gulf between elite opinion and instinctive common sense. And it confirms a growing interest on the part of conservative politicians in the improvement of the generally deplorable state of our civic architecture.
The federal architecture wars kicked into high gear during the last year of Donald Trump's presidency. In February 2020 a draft executive order prescribing traditional architectural styles as the "preferred" norm for U.S. courthouses, agency headquarters and other buildings budgeted at over $50 million (with the exception of ports of entry) leaked. For the nation's capital, the order prescribed classicism as the "default" idiom. The American Institute of Architects, of all people, denounced the order for disempowering "communities." Architecture pundits went bananas. "It is becoming inescapably clear that the political modus operandi of Donald Trump in many respects resembles tactics employed by the Nazis," proclaimed one. "What's So Great About Fake Roman Temples?" the Times intoned.
In the event, Trump signed the order at the end of the year—by which time he was, of course, a lame duck. President Joe Biden canceled it after a month in office, and the Biden White House proceeded, in an unprecedented action, to summarily defenestrate several Trump-appointed members of an influential federal review board, the Commission of Fine Arts, starting with chairman Justin Shubow. Shubow, president of the National Civic Art Society, has played an important role in keeping the federal architecture issue alive on Capitol Hill.
The United States got richer and richer after World War II but its architecture got poorer and poorer. That reality really hits home when you compare the HUD building's 7th Street front with the hemicyclical façade of the William Jefferson Clinton Building in Washington's Federal Triangle, completed just 34 years earlier than Breuer's edifice. Instead of the Weaver's unmodulated crudity, the Clinton building—now home to EPA's headquarters—offers a symphonic arrangement of architectonic motifs. The rusticated arches at ground level convey a sense of muscular but graceful structural support, handsomely accented by scrolled keystones. A central three-bay projection boasts a giant order of paired Ionic columns above the arcade, with the projection crowned by a pediment boasting a multi-figured sculptural relief, The Spirit of Progress and Civilization. Each end of the hemicycle is punctuated by a projecting pavilion with two pairs of columns. A balustrade, echoing one above the arcade, fronts the low mansard roof and its pedimented attic windows. Everywhere you look in this design, the microcosm works in harmony with, and reinforces, the macrocosm.
Such is the organic, orchestrated complexity of the classical tradition that modernism deemed unworthy of its brave new world. Now, it is true that a law reinstating classically-oriented federal patronage—the norm for most of our country's history—is not going to bring back the grandeur of the Clinton building in one fell swoop. That august edifice is the product of a culture of building that was almost totally destroyed after World War II. It is the product of a culture of building geared to the creation of architectural artifacts intended to endure for centuries instead of going through the standard modernist throwaway-culture cycle of depreciation and obsolescence. What's more, latter-day federal building budgets are not going to get us to the quality the celebrated New York firm of Delano & Aldrich achieved at the Clinton building. But it is also true that Uncle Sam is capable of erecting pleasing structures that point us in the right direction.
Perhaps the best example of such a building is the decade-old U.S. courthouse in Tuscaloosa, Alabama, designed by HBRA Architects of Chicago. Erected thanks to the clout of former Republican Senator Richard Shelby, it is a simple, dignified, limestone-cloaked structure that hearkens back to the Greek Revival, a classical style that found wide currency in this country during the first half of the 19th century. The Tuscaloosa courthouse features a major portico with Greek Doric columns (meaning no bases, just shafts and capitals) flanked on each side by a minor pavilion articulated with pilasters. The main interior space is an atrium with a second-floor gallery, whose design includes beautiful Ionic columns with painted detail that were inspired by the Erectheion in Athens. The gallery is also decorated with sixteen figurative paintings devoted to Alabama's history. The work of Caleb O'Connor, they represent a salutary departure from the self-indulgent abstractions often served up by creative types in GSA's rolodex—for example Monique Van Genderen's rather messy, 250-foot-long plethora of brushstrokes intended to evoke the Susquehanna River adorning the lobby of a depressing new federal courthouse in Harrisburg, Pennsylvania.
There are bound to be downsides, however, to any effort to codify architectural esthetics. Rubio and Banks, whose bills incorporate core elements of Trump's order, provide a laundry list of preferred historic styles, largely with a view to respecting regional traditions. This is an exercise in futility. Pueblo Revival? Please. Pueblo architecture is a precious national heirloom, but its relevance to contemporary federal architecture is very limited. Same deal with Gothic and Romanesque, both styles that are harder to handle successfully than the classical.
The classical canon is the true wellspring of stylistic diversity and regional appropriateness and the unrivaled source of the architectural forms and conventions that have defined the federal image in the public mind since the Founding. That's all the Rubio-Banks bills need to say about style. The bills do not ban modernist projects, but set the official-approval bar a good deal higher, stipulating that they must be shown to be "as beautiful and reflective of the dignity, enterprise, vigor, and stability" of the American government as designs "of comparable cost" in the preferred idioms. The bar should be set higher for non-classical historic styles as well. The bills also, and very sensibly, require rigorous scrutiny of structural performance issues raised by modernist designs.
Implementation, however, is another challenge, and it is doubtful Rubio and Banks have met it. Rubio proposes a council for the improvement of federal architecture. His council would include the chair of the Commission of Fine Arts—currently a principal in the firm that has designed the dreadfully misshapen tower that will grace the Obama Presidential Library in Chicago—along with former CFA chairs willing to serve, the CFA's secretary, the architect of the Capitol or a designee, plus GSA's public buildings service commissioner and chief architect. Rubio's council would also include up to ten Congressionally-appointed individuals. It is by no means certain that people sympathetic to his objectives would actually constitute a majority over the course of the council's stipulated five-year existence. It might wind up adding a layer of bureaucratic infighting to the federal architecture brawl. Maybe it would be more sensible to simply enact statutory guidelines for the design of Uncle Sam's buildings and leave project review to the Congressional committees charged with GSA oversight. The resulting process wouldn't be perfect but it would almost certainly be vastly preferable to the status quo.
Regarding the style issue, a big-tent conception of classicism is what legislators should embrace. In San Diego, classical forms largely define the Spanish Colonial character of the very dignified Jacob Weinberger U.S. Courthouse (1913). This is certainly a regionally appropriate edifice, and it is complemented by any number of Georgian or Colonial Revival buildings in other parts of the country. This is why such appropriateness was stipulated by Kennedy Administration aide Daniel Patrick Moynihan in his "Guiding Principles for Federal Architecture" of 1962. Moynihan's principles are not legally binding but have served as holy writ for GSA precisely because they rejected the idea of "an official style"—meaning classicism—while effectively empowering the modernist establishment to define the terms of federal patronage. In so doing, they hamstrung the realization of federal buildings expressive of our government's "dignity, enterprise, vigor and stability"—a Moynihan phrase reiterated in Trump's order and the Rubio and Banks bills.
Returning to regional appropriateness, San Diego's modernist Edward J. Schwartz U.S Courthouse (1975) strikes a stark contrast with the Weinberger building. This brick hulk belongs in a suburban office park in Anywhere, USA. What is now the Hipolito F. Garcia Federal Building and U.S. Courthouse (1937) combines the grand manner of Washington's Clinton building with a terra-cotta-tile roof and Spanish baroque touches that make it right at home in San Antonio. But what's regionally appropriate about that city's spanking new federal courthouse? A vacuously overwrought postmodern confection, its glassiness necessitates a multitude of louvers. Its skimpy metallic posts anorexically "reference" classical columns. It too, could be absolutely anywhere. And what we see in this structure is less the expression of "dignity, vigor, enterprise and stability" than a threadbare architectural fashion statement.
It is true, on the other hand, that federal courthouses of recent vintage in El Paso and Las Cruces, New Mexico, attempt to "reference" the Southwest's vernacular building tradition. These woefully discombobulated structures have been justly ridiculed as "deconstructed adobes." The modernist courthouses in Harrisburg, San Antonio, El Paso and Las Cruces are fruits of GSA's Design Excellence Program, launched in 1994 in an effort to improve the agency's architectural game. So is the Tuscaloosa courthouse, but it ranks among a small minority of classical buildings among the 153 GSA has commissioned under the program.
Rubio and Banks anticipate the possible redesign of modernist federal buildings in a classical or traditional manner. Unfortunately, many of Uncle Sam's newer buildings feature disjointed or fragmented massing that would be all but impossible to redesign successfully. What about his more utilitarian stock of modernist boxes?
Subscribe Today
Get daily emails in your inbox
Here we have an interesting case study: the 18-story concrete box erected in Portland, Oregon. A decade ago, this utterly sterile edifice, which first opened in 1975, received a new outer skin of glass outrigged with a delirious array of aluminum "reeds," plus a picturesquely tilted roof. The building could have received a classical facelift instead. The problem, a knowledgeable architect will tell you, is that the original building probably wasn't designed to last for more than 60 years. Structural longevity and the cost of systems upgrades may make the old wrecking ball preferable to renovation and redesign in many such cases. Perhaps it's only fitting that the Portland building's exterior bling appears destined for a rather brief shelf life.
The classical tradition is an open system with a deep history. It includes Art Deco, the modernistic style of numerous federal buildings erected between the world wars. But innovation within the tradition must prove its aesthetic and practical value when weighed against precedent. The last Supervising Architect of the Treasury, Louis A. Simon, whose office oversaw the construction of federal buildings from 1852 down to the eve of World War II, left a noble legacy of classically-informed edifices ranging from the thoroughly traditional to the tastefully moderne. Now more than ever, that legacy is worthy of emulation.
Of course, GSA and the AIA would prefer to codify the status quo. Legislation bearing a title worthy of Orwell, the "Democracy in Design Act," would do just that; the bill, which also has been introduced in both chambers of Congress, is not the first such effort, and hopefully it will go nowhere. Whatever the fate of their legislation, Rubio and Banks are doing are doing our nation a service in focusing attention on Uncle Sam's buildings. There will inevitably be trial and error along the road to a federal architecture worthy of the nation, but we're on our way.