Trump Dodges Conviction, Vows 'Much to Share'
The former president was acquitted by 43 senators on Saturday and issued a written statement vowing a comeback of sorts.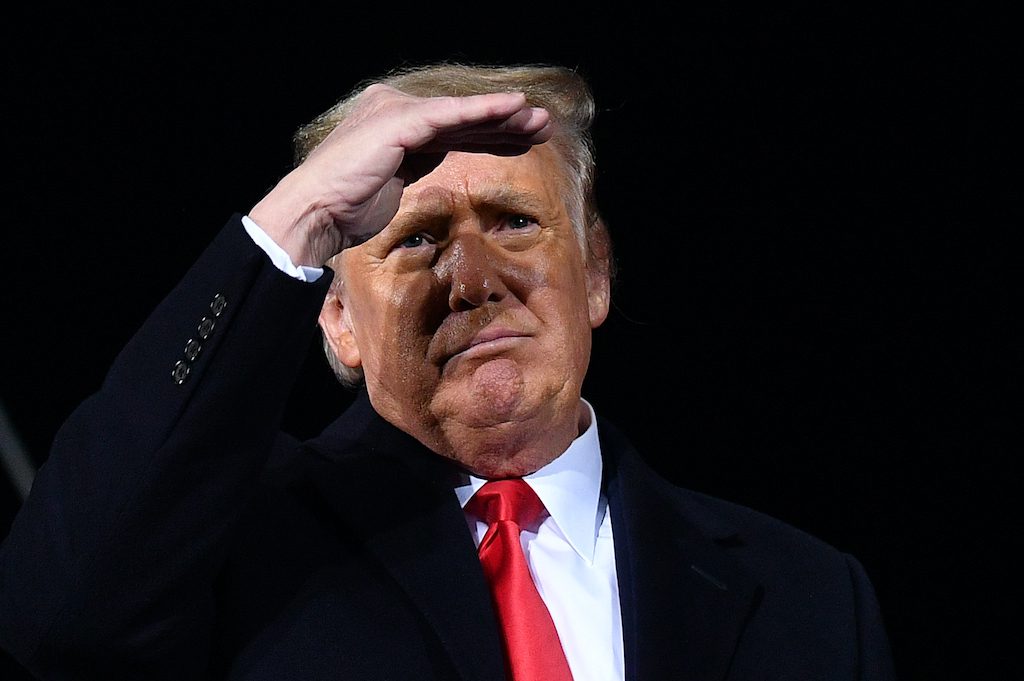 O say can you see ... defeat. POTUS looks out at Election Eve Georgia rally for Senate loser Kelly Loeffler (Photo by MANDEL NGAN/AFP via Getty Images)
Former President Donald Trump was acquitted in his second impeachment trial on Saturday, a fait accompli, amidst last-minute chaos involving new witnesses and Trump's later statement that he had "much to share" in the months ahead.
Fifty-seven senators found Trump guilty of inciting an insurrection at the Capitol on Jan 6. All fifty Democrats voted to convict, including moderates like Sen. Joe Manchin of West Virginia, and seven Republicans threw in with him: Sen. Romney of Utah, Sen. Murkowski of Alaska, Sen. Collins of Maine, Sen. Toomey of Pennsylvania, Sen. Cassidy of Louisiana and Sen. Sasse of Nebraska and Sen. Burr of North Carolina. 
Sasse and Romney are longstanding, trenchant critics of the former president (and this is Romney's second conviction vote of Trump). Collins and Murkowski are part of the ruling moderate clique of the upper chamber, along with Manchin. Toomey and Burr are retiring Republicans. And Cassidy has made clear his flirtation with a conviction vote for days.
Sen. Ted Cruz of Texas, Trump's once-fierce rival turned tacit friend, told reporters on Saturday ahead of the vote that a last minute push on Saturday for new witnesses from the House impeachment managers was motivated by critiques from "leftist Twitter" that their efforts had been half-hearted, defeatist. After some convulsion, the verdict vote went ahead without hearing the witnesses. Cruz said he would have been glad for the proceedings to have dragged on to stall President Joe Biden's agenda. 
Cruz also predicted as late as Saturday that the range of votes could oscillate from 53 to 57, indicating last minute decisions from Cassidy, Burr and others. A two-thirds threshold would have been needed to convict the former president. Senate Majority Leader Chuck Schumer said after the vote that "the case of Donald Trump's second impeachment trial was open and shut" and that "he deserves to be permanently discredited—and I believe he has been discredited—in the eyes of the American people and in the judgment of history." 
Senate Minority Leader Mitch McConnell voted to acquit, because the Senate lacked standing for an impeachment trial and the potential barring of office of a former federal official. But McConnell said that there could be little doubt Trump was "morally" responsible for the January 6 tragedy and Trump had clearly partaken in "false statements, conspiracy theories and reckless hyperbole."
For his part, Trump, who has not given any public address — outside of written statements — since leaving Washington last month gave another on Saturday. He implied a comeback of some sort.
Trump is said to have closely monitored the proceedings in his compound at Mar-A-Lago along with aides such as his longtime consigliere and social media pointman Dan Scavino. "This has been yet another phase of the greatest witch hunt in the history of our country. No president has ever gone through anything like it," Trump said. "In the months ahead I have much to share with you, and I look forward to continuing our incredible journey together to achieve American greatness for all of our people." 
The former president concluded: "There has never been anything like it!"
Latest Articles