The Example of Camus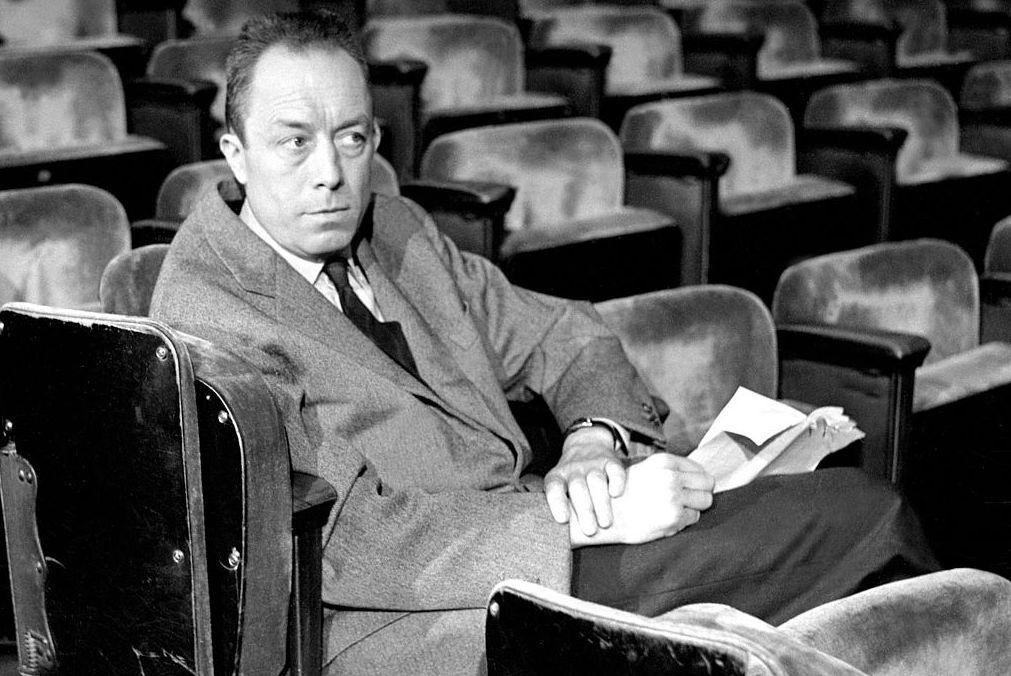 Albert Camus (Photo by Daniel FallotINA via Getty Images)
"French intellectuals reviled Camus for not denouncing the French offensives in the Algerian war," Aaron Peck writes in The Los Angeles Review of Books, but his attitude towards the conflict was driven less by ideology than experience. Algeria was not an idea for him. It was a place—a home—which he accepted with all the complexities that come with it:
While he supported the Algerian struggle in theory and condemned the oppression of colonialism in practice, he also protested against the extremism of the Arab nationalists, especially their massacres of French Algerians, which would eventually lead to the expulsion of the pieds-noirs two years after his death.

In his 1958 book Algerian Chronicles, Camus attempts to occupy a political position between the extremes. He opposed the colonial racism of the many pieds-noirs as much as he opposed the terrorism of the Arab nationalists. Instead, he imagined an ethnically and linguistically mixed state. Replying to an Algerian Arab nationalist named Aziz Kessous, Camus says: 'You have already said it well, better than I could have: we are condemned to live together.' To those who demanded that he choose a side, he responds, 'Ah! I have chosen it. I have chosen my country, I have chosen a just Algeria, where French and Arabs associate together freely!' And yet, two years after Camus's death, Algeria, having won the war for independence, expelled most of the pieds-noirs.

There are reasons why many critics have found his treatment of the Arab world disquieting. 'Camus's plain style and unadorned reporting of social situations conceal rivetingly complex contradictions,' Edward Said writes, 'contradictions unresolvable by rendering, as critics have done, his feelings of loyalty to French Algeria as a parable of the human condition.' Few Arab characters figure into The First Man. The experience of North Africa that he translates into literature concerns mostly only French Algerians. In his 2013 novel The Meursault Investigation, Algerian writer Kamel Daoud imagines another of Camus's novels, The Stranger, from the perspective of the brother of its famously unnamed murdered Arab, highlighting how little thought is given to the Arab characters throughout the novel. A similar but less dramatic rewriting could be imagined for The First Man. For Camus, North Africa was le bled only in the original sense, as the sticks, a remote place from which he had fled. 'Camus's novels and stories thus very precisely distill,' according to Said, 'the traditions, idioms, and discursive strategies of France's appropriation of Algeria.'

And yet Camus attempted to straddle far more complex contradictions than some of his ideologically driven peers. He did so because, for him, Algeria was not just an idea, it was a world, his world, or at least a memory.
In other news: The Met follows its massive layoffs (20% of the staff is gone) with two new hires. Lee Rosenbaum takes stock: "The Met announced yesterday that Patricia Marroquin Norby, Purépecha (western Mexico), will be its inaugural associate curator of Native American Art, effective Sept. 14. But although the Met's press release praises her as 'an experienced museum professional,' her museum experience appears to be relatively scant."
Areté arrête: We've heard news that Craig Raine and Ann Pasternak Slater's British tri-quarterly Areté has stopped publication after over 20 years of circulation. Subscribers received the following note: "We have decided to close Areté with Issue 60. When we started in 1999, I thought that 32 issues would be admirable, but impossible. With the lockdown, the logistics of producing a magazine have become very difficult."
Rory Waterman reviews Clive James's collected writings on Philip Larkin: "As this slim book was amassed in retrospect, we must forgive its repetitions. James's praise – and his criticism of Larkin's detractors – often repackages the same points. Nonetheless, the volume has variety. James takes on not only Larkin's poetry, but also his fiction, jazz criticism ('Jazz is Larkin's first love and literature his first duty') and legacy through Tom Courtenay's play Pretending To Be Me and the two major biographies. He includes in facsimile three mildly diverting personal letters of admiration from Larkin, written in the slightly unbuttoned tone the older man reserved for acquaintances he liked."
Notre Dame's crypt reopens: "Before the crypt could reopen, masses of toxic lead dust from the fire had to be removed, ancient stones cleaned, ventilation systems vacuumed, lighting and interactive programs reorganized, molds eliminated and anti-Covid measures imposed, including rules for physical distancing, mask-wearing, touching interactive screens and limitations on the number of visitors."
Mythic Mount Shasta: "There's a well-known legend that says that somewhere deep beneath Northern California's 14,179-foot-tall Mount Shasta is a complex of tunnels and a hidden city called Telos, the ancient 'City of Light' for the Lemurians. They were the residents of the mythical lost continent of Lemuria, which met its demise under the waves of the Pacific (or the Indian Ocean, depending on who you ask) thousands of years ago . . . Lemurians aren't the only unusual figures said to inhabit this stand-alone stratovolcano, easily seen from Interstate 5, about 60 miles south of the Oregon border. Mount Shasta is believed to be a home base for the Lizard People, too, reptilian humanoids that also reside underground. The mountain is a hotbed of UFO sightings, one of the most recent of which occurred in February 2020. (It was a saucer-shaped lenticular cloud.) In fact, the mountain is associated with so many otherworldly, paranormal, and mythical beings—in addition to long-established Native American traditions—that it's almost like a who's who of metaphysics. It has attracted a legion of followers over the years, including 'Poet of the Sierras' Joaquin Miller and naturalist John Muir, as well as fringe religious organizations such as the Ascended Masters, who believe that they're enlightened beings existing in higher dimensions. What is it about this mountain in particular that inspires so much belief?"
Should Britain bring back the beaver? Derek Turner reviews Derek Gow's new book on the effort to reintroduce beavers to British waterways after they were killed off in the sixteenth century.
Alan Jacobs explains why we need to listen to "voices from the past," whatever their faults, in times of crisis: "This might seem a very strange time to publish a book recommending that we read the voices from the past. After all, isn't the present hammering at our door rather violently? There's a worldwide pandemic; a presidential election is about to consume the attention of America; and if all that weren't sufficient, we are entering hurricane season. The present is keeping us plenty busy. Who has time for the past? But my argument is that this is precisely the kind of moment when we need to take some time to step back from the fire hose of alarming news. (When I first tried to type fire hose, I accidentally typed dire hose instead. Indeed.) As we try to manage our dispositions, we need two things. First, we need perspective; second, we need tranquility. And it's voices from the past that can give us both—even when they say things we don't want to hear, and when those voices belong to people who have done bad things."
Photo: Lunar eclipse above the Acropolis
Receive Prufrock in your inbox every weekday morning. Subscribe here.
Latest Articles