Moralistic Therapeutic Papism?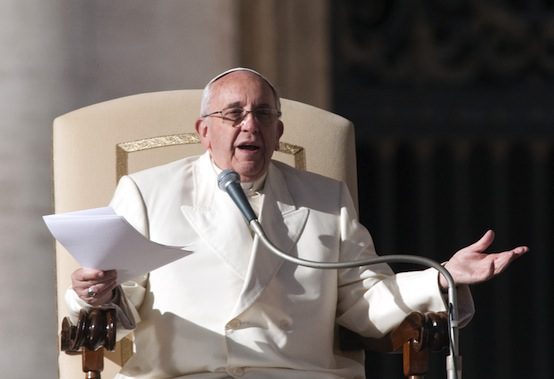 Denny Burk, a Southern Baptist, was disappointed by Pope Francis's speech to Congress. Excerpt:
 The Pope didn't speak prophetically but politically. The Pope spoke clearly and at length in support of liberal political priorities—climate change, immigration, abolishing the death penalty. He spoke vaguely and briefly (if at all) about the most contested social issues of our time—abortion, marriage, and religious liberty.
Well, I don't see climate change or the death penalty as liberal theological priorities, certainly not within Catholicism. Immigration is also an important priority to Catholics, though I am less convinced than many Catholics are that there is a clearly Catholic theological mandate in favor of mass immigration. I am neither surprised nor bothered that the Pope spoke on these things. But I agree with Burk that it is shocking that the Pope barely talked about these other things.
On abortion, given the Planned Parenthood undercover videos, and given that defunding Planned Parenthood is about to come up in front of the Congress, and especially given that there are many Catholic Democrats who are planning to vote against removing government funding from the very organization that slaughters these children and sells their body parts, it is bizarre that Francis didn't speak more explicitly about abortion.
Burk also notes that Francis didn't get into the same-sex marriage issue explicitly, or religious liberty, beyond vague statements. This too is mystifying, given the recent changes in US culture, and given how the freedom of the Church he leads to run its own institutions according to what Catholics believe to be the truth is very much at issue in our country. There he was speaking before the United States Congress, and barely mentioned this. Again, it's inexplicable, given the forum, and given the very real attacks, current and future, on Catholic teaching and religious liberty coming from US courts and political liberals.
The conservative Catholic Robert Royal is much happier with what Francis said than the Southern Baptist Burk is, but there is this:
Inexplicably, at the same time, the Holy Father – in his address to the bishops – warned them about being harsh, about failing to offer the people of God that attractive light that is the Gospel of Jesus Himself. Situations around the world differ, to be sure, and the pope may have some concrete experience of his own in mind. But those of us who consider ourselves unshakeable friends, and supporters, of the papacy – and who have knocked about in various corners of the world – have a fair bit of difficulty in identifying who, exactly, the Holy Father thinks he is speaking to, when he frets about harshness and rigidity, especially when Catholicism is under assault, even in the developed nations of the world.

Far more people, in our experience anno Domini 2015, in many parts of the world, are less troubled about a Church that is too judgmental than a Church that has lost its way – and has nothing distinctive to say to the secular world. If the pope wants to say something truly revolutionary in America, he might propose to us that Christianity might be something more than openness, tolerance, kindness. The secular world doesn't need Christianity to appreciate that. So exactly who do we think we are speaking to?
I love how Francis confounds both the American left and the American right. In that he is being Catholic, given that Catholicism does not line up squarely with either political ideology. And unlike my Evangelical friend Denny Burk, I don't mind that the Pope gave a political speech in a political forum. What I find hard to explain is why the Pope barely paid attention to the most important political issue facing his American flock: the way the Sexual Revolution is beginning to impact religious liberty for those individuals and institutions which, like the Catholic Church (at least officially), oppose it.
If one draws the impression that Pope Francis doesn't really care about these things, one could hardly be blamed. I am thinking right now about the Catholic high school religion teacher who wrote to me after Francis's famous "Who am I to judge?" remark regarding homosexuality. He said that even though the pope wasn't turning away from Catholic teaching, that's how it was received by his students, who said, "Hey, the Pope has no problem with it." So there's that.
Latest Articles