Lost Causes And Stand-Taking Down South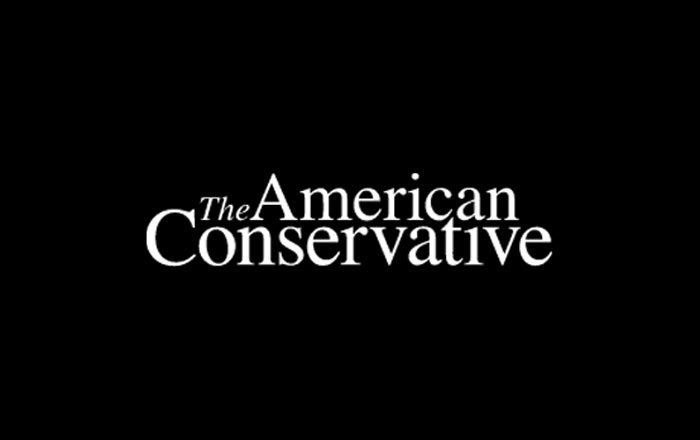 Today the New Yorker published a long profile of me by Joshua Rothman. It's really good, in the sense of being dead accurate, warts and all. And it's very well written. I'm quite pleased with it, though there are parts that made me grimace a wee bit — parts that are not Rothman's fault, but my own: he has captured me well. I'll drop a couple of passages below.
I illustrate this post with a screen grab from the website. I don't think it's quite kosher (and maybe not legal) to flat-out grab the photo, a portrait done in the Starhill Cemetery by the great Maude Schuyler Clay. We spent an entire Sunday afternoon gallivanting around St. Francisville and environs, taking shots in different places. When I saw the one the magazine's photo editor decided to use, my first thought was, "Oh, too bad!", because I doubt it's the most flattering of the bunch. But the more I thought about it, the more I realized that it's exactly the right one. After staring at it a few seconds, I thought, "My God, it's the face of my father." I showed it to my wife and kids, and they agreed. We have all seen that look on Daddy's face: the eyes looking suspiciously in the distance, the tension in his jaw, when confronted with things that vex him. Neither Maude nor the photo editor at the magazine knew him, obviously, but boy, have they captured my dad, and my dad inside me — and so has Josh Rothman.
Though my dad and I clashed intensely for much of our life together, what we shared was a profound need for order, to believe that the world was ordered in a certain way, and that people were seeking to harmonize with it. But people, being people, tend not to do this, hence the anxiety within the ordered person. My father worried a great deal because the world surrounding him would not order itself, or be ordered, as he thought it should. This anxiety took a painful toll on me, because my own disorder (in his eyes) was a thorn in his flesh. It was by no means the only one, but given that I was his only son, and was named after him, it was his chief torment. At least until his daughter, the Golden Girl who never did anything wrong, died of cancer at age 42.
What Josh Rothman's profile, and Maude Schuyler Clay's photo, revealed to me is how very much alike my late father and I are. There's one big difference, though: Though we were (are) both restless souls, Daddy was convinced that he had found the right place; his restlessness manifested itself in countless projects around his land, by which he sought to order it. Mine was more inward, though certainly it had outward manifestations. Daddy never doubted himself or his way of living, and indeed could not have conceived of doing so. That's not me, and never was. But the anxiety, that we share.
From the essay:
Year by year, the distance between father and son grew. In college, at L.S.U., Dreher was a leftist who invited Abbie Hoffman to campus; he tried to debate politics with his father, who once responded, in genuine bewilderment, "Why would I lie to you?" It was as though his dad couldn't comprehend the concept of difference. Dreher describes his father and his sister as "Bayou Confucians." He explains, "They had this idea that, if you did what you were supposed to do, you would succeed. I didn't do those things, but I didn't fail, and that drove them crazy." (Dreher moved right after college—he has worked as a blogger for National Review but now says that he is more "traditionalist" than conservative: "I think there's an individualism at the center of both parties—the economic individualism of the Republicans and the secular, social individualism of the Democrats—that I find really incongruous with what I believe to be true because of my religion.")

In South Louisiana, religion was everywhere, but, as a kid, Dreher was indifferent to it. Then, when he was seventeen, his mother, Dorothy, won a trip to Europe in a raffle and sent Rod in her place. He visited Chartres and felt judged by the beauty of the cathedral. He began to take religion seriously. When he was eighteen, he went to see Pope John Paul II at the Superdome, in New Orleans. The Pope appeared, and a thought flashed in Dreher's mind: "I wish he were my dad." In his twenties, Dreher wanted nothing more than to fall in love—he had a poster for the French film "Betty Blue" on his bedroom wall—but his romances felt increasingly shallow, even sad, compared with what he'd seen in France. At twenty-six, he converted to Catholicism. Fed up with what he perceived as his own caddishness—he had dated one girlfriend longer than he should have—he decided to embrace chastity until marriage. Three years later, he proposed to Julie in a church, kneeling before an icon.
More:
It was Dreher's Orthodox priest, Father Matthew, who laid down the law. "He said, 'You have no choice as a Christian: you've got to love your dad even if he doesn't love you back in the way that you want him to,' " Dreher recalled. " 'You cannot stand on justice: love matters more than justice, because the higher justice is love.' " When Dreher struggled to master his feelings, Father Matthew told him to perform a demanding Orthodox ritual called the Optina Rule. He recited the Jesus Prayer—"Lord Jesus Christ, Son of God, have mercy on me, a sinner"—hundreds of times a day.

Two life-changing events occurred after Dreher began the regimen of prayer. He was alone at home one evening, lying in bed, when he sensed a presence in the room. "I felt a hand reach inside my heart and put a stone there," he said. "And I could see, in some interior way, that the stone said, 'God loves me.' I'd doubted all my life that God really loved me." A few months later, Dreher stopped by his dad's house to organize his medications. Ray was sitting on the porch, reading the newspaper and drinking coffee. When Dreher leaned down to kiss him on the cheek, his father grabbed him by the arm. Tears were in his eyes. "He was stammering," Dreher recalled. "He said, 'I—I—I spent a long time talking to the Lord last night about you, and the transgressions I did against you. And I told him I was sorry. And I think he heard me.' " Recounting the story in the back seat of the car en route to D.C., Dreher still seemed astonished that this had happened. "I kissed him, and said, 'I love you.' "

Dreher's father died in 2015. The next summer, the mission lost its priest and one of the founding families moved away. To be near an Orthodox church, Dreher and his family moved to Baton Rouge. Looking back on his time in St. Francisville, Dreher thinks that, if he hadn't moved there and then forced himself to follow the rules—prayer, proximity, love—he would have stayed an angry child forever.
Here is one of my favorite photos: of my father and Father Matthew, at a crawfish boil, back in 2013 or so:
More from the Rothman essay, this after our visit to the Catholic community around St. Jerome parish in Hyattsville, Md.:
Our visit had been short, but he seemed wistful, even a little sad, to be leaving a place where he might have belonged. In a 2013 post, Dreher meditates on his perennial outsiderness. He says he likes visiting places where he could live but doesn't—places where he is "a stranger, but not strange"—more than he enjoys fitting in at home. "I don't want to feel this way, but I do," he writes. He wonders if he is "an outsider by nature," chasing a "sense of fitting-in, of Home, that . . . I am incapable of experiencing."

One of Dreher's favorite writers is Walker Percy, whose novel "The Moviegoer" is set in a fictionalized version of West Feliciana parish, where St. Francisville is situated. (Every year, Dreher hosts a Walker Percy Weekend, combining lectures from literary scholars with crawfish, bourbon, and beer.) Binx Bolling, the book's protagonist, is a young stockbroker who finds himself on "the search"—the search being "what anyone would undertake if he were not sunk in the every-dayness of his own life." Binx explains, "To become aware of the possibility of the search is to be onto something. Not to be onto something is to be in despair."
Working with Josh Rothman on this profile led me inadvertently to seeing why I am so drawn to the personality of Walker Percy, and to much of his writing. Percy seemed to be as happy as he was capable of being when he was onto something. I got onto something when I stumbled into the Chartres cathedral, and I've been on the search for it ever since. I have tried to figure out why I can think that the world is going to hell in a handbasket, and still be so laid back about it — to enjoy, truly enjoy, life — crawfish, beer, books, prayer ropes, conversation — amid such anxiety. Well, that's how Walker Percy was. It's how I am. People are mysterious.
One more bit:
Another young Ben Op Christian who lives in New York told me that she didn't share Dreher's sense of outsiderness. "I grew up on the Upper West Side," she said. "This is my St. Francisville." At the same time, she said, "when I was growing up, there were these moments in the fall when you'd be walking in Central Park, and you'd see that pink, 7-p.m.-in-September sunlight on the buildings, and it seemed like there was another place the city was pointing to." In an existential sense, she said, Christianity figured human beings as "resident aliens" in the world; the Benedict Option gave a name to the deliberate maintenance of that difference. Several years ago, with some friends who were also readers of Dreher's, she had tried to start a theologically conservative church. She saw the church that she currently attended, in Manhattan, as a "deliberate community." "A couple from my church lives in my house," she said.

"What the Ben Op means to me is this," Leah [Libresco Sargeant] told me. "You're married, right? Imagine a world where people didn't agree that marriage was a concept—where there was no social understanding of marriage. And imagine that your marriage was really important to you, and that, when you interacted with other people, no one mentioned your marriage; there was no respect for it and no acknowledgment of its existence. You would do a lot to claw out some space to manifest that your marriage was important. And that's how it is with the Benedict Option. We have a relationship with Christ. Really, it should be our most important relationship. But my relationship with Alexi is treated as more real and important and relevant. If I say, 'Oh, I can't make it, Alexi and I have a thing,' that's normal. But if I say, 'Sorry, I have to go to church,' that's weird."

They weren't sure if they would stay in New York or move somewhere else. They loved the city, but its values—competition, individualism, transience, capitalism—seemed in tension with their faith. They were still making up their minds about how they wanted to live.
OK, I have to share this passage about Andrew Sullivan:
The writer Andrew Sullivan, who is gay and Catholic, is one of Dreher's good friends. Their friendship began in earnest in 2010, when Ruthie got sick and Dreher, moved by a spirit of generalized repentance, e-mailed Sullivan to apologize for anything "hard-hearted" he might have said in their various online arguments. Sullivan has a long-standing disagreement with Dreher over same-sex marriage, but he believes that the religiously devout should be permitted their dissent. "There is simply no way for an orthodox Catholic to embrace same-sex marriage," he said. "The attempt to conflate that with homophobia is a sign of the unthinking nature of some liberal responses to religion. I really don't think that florists who don't want to contaminate themselves with a gay wedding should in any way be compelled to do so. I think any gay person that wants them to do that is being an asshole, to be honest—an intolerant asshole. Rod forces you to understand what real pluralism is: actually accepting people with completely different world views than your own."

In "The Benedict Option," Dreher writes that "the angry vehemence with which many gay activists condemn Christianity" is the understandable result of a history of "rejection and hatred by the church." Orthodox Christians need to acknowledge this history, he continues, and "repent of it." He has assured his children that, if they are gay, he will still love them; he is almost—but not quite—apologetic about his views, which he presents as a theological obligation. He sees orthodox Christians as powerless against the forces of liquidly modern progressivism; on his blog, he argues that "the question is not really 'What are you conservative Christians prepared to tolerate?' but actually 'What are LGBTs and progressive allies prepared to tolerate?' " He wants them to be magnanimous in victory; to refrain from pressing their advantage. Essentially, he says to progressives: You've won. You wouldn't sue Orthodox Jews or observant Muslims. Please don't sue us, either.

"What I really love about Rod is that, even as he's insisting upon certain truths, he's obviously completely conflicted," Sullivan said. "And he's a mess! I don't think he'd disagree with that. But he's a mess in the best possible way, because he hasn't anesthetized himself. He's honest about a lot of the questions that many liberal and conservative Christians aren't really addressing." Talking to Sullivan about Dreher, I was reminded of Father Matthew's law: "You've got to love your dad even if he doesn't love you back in the way that you want him to."
Andrew is right: I'm a mess, but I hope I'm a mess in the best possible way.
I have never had a writer do a profile of me, though I've certainly done it to other people. When the first journalist to offer to do a profile of you is a writer for the New Yorker — my favorite magazine, one I've been subscribing to for over 20 years, and probably the most prestigious magazine in the country — you can probably be forgiven if your first impulse is to shriek like Homer Simpson and dive under the table. But I trusted Josh Rothman because I had read his terrific piece about J.D. Vance's book last September, which was one of the best things I'd read about it (and I read a lot). I believe the piece validates my trust. We spent the week of The Benedict Option's publication traveling together. It's not the easiest thing to have a writer for the New Yorker at your side for a whole week, asking questions, but Josh made it into a true pleasure. I told him last week that I was sure that whatever he ended up saying about me, that it would be a fair judgment. Now that I've read the piece, I know that I was right.
I can't let go of the story of my family and its fate. I don't think there are any mysteries left to plumb regarding why my dad and my sister regarded me the way they did, or why my attempt at re-entry (to use a Percy construct) failed. I don't sense any burning need to sort out why I'm the particular mess that I am. But what remains on my mind is this.
We now live in a world that was made for somebody like me, with my aspirations and talents. It is a world in which people like Daddy and Ruthie, and what they stood for, can scarcely thrive. (I read Chris Caldwell's piece on the situation in France, and it resonates with regard to the small places like West Feliciana.) The values and the customs and the way of seeing the world that meant everything to them is very hard to sustain. The great tragedy of my family is that my father and my sister held onto their vision so tightly that they made all those around them whom they catechized far too rigid to survive the shocks of their passing. And now the family that they revered above all else is shattered. What will happen to the land that my father acquired, cultivated, and revered, after my mom is gone? Ruthie loved the land as much as he did, and planned to live on it till the day she died. And she did — but she did not count on dying at 42. Everything that seemed so solid, so unbreakable, has dissolved, and is broken.
I've been thinking about how things might have gone differently had I been able to return to St. Francisville when Ruthie was first diagnosed. What if I had been there during the 19 months she lived, and had discovered the awful truth while there was still time to resolve things. Might everything been different? Maybe, maybe not. They were so dug in to their position that I probably would have broken myself trying to breach the barrier of iron will that they built between themselves and the outside world, to which I had defected. Still, the storyteller in me keeps thinking about how that would have worked out. Last week, onstage in New Orleans with JD Vance, JD asked me what my father would have thought of Trump. I said he would have supported him, no question about it. Trump stood for the lost world of people like my dad, and all the people of West Feliciana. And I reflected in my answer on how strange it was that I lived just down the road from my father, and am a conservative, just as he was, yet I was startled by the enthusiasm both my parents showed for Trump (something I only learned in my father's final days, when we watched Trump's Mobile rally in my father's bedroom, about ten days before he died).
I keep thinking that somehow, the dynamic tension between my father and my sister on one side, and me on the other, tells us something about our country in its present state. What they had is what so many of us long for, me included: a strong sense of place, and of rootedness in that place. But they were so deeply rooted that they could not bear anything that challenged their sense of how the world was. That's why I got out: because I didn't fit, and I could not bear my father's judgment. But I kept trying to come back because having been out in the world, and having succeeded, I was aware of the deep value of the world they inhabited. I wanted to be part of it, in some way. It took Ruthie's death to open my eyes to the treasure they guarded.
And yet, when I moved home, my father could not accept the grace of my offering to him. None of them could (well, my mom did, but that's how she is: she accepts all; if I came home as a Maoist drag queen, she would find a reason to affirm me in my Maoist drag queenliness). It violated their sense of order. In The Little Way Of Ruthie Leming, I wrote about how, after I came home, my father made a startling admission to me: that he ought to have left West Feliciana when he was young, and made his way in the outside world. He told me he didn't do it because he believed he had a duty to love and to serve his parents and his extended family. He did this, he said, but they didn't feel the same way about him. If only he had left, his life might have been different, he said.
It was an astonishing admission — really, even today I struggle to believe it, but I recorded it on my iPhone, so I know it was real. And yet — and yet! — it changed nothing. He continued to believe that I was a disappointment to him, even though I returned home. Because I wasn't like him. This pained him so much — it was visible — but he could not escape the gravity of his place, neither in his person nor in his judgments. I explained the failure of my return to a friend like this: imagine the Prodigal Son story in the Bible, but the father taking the side of the resentful sibling, and telling the prodigal that he cannot return home, because he had made his choice. That was us.
In the standard Hollywood telling of this story, they are villains: the close-minded country people who refuse the outsider, refuse to change, etc. In truth, though, they weren't villains at all; anybody who reads Little Way can see that. In many, perhaps even most, respects, my dad and my sister were better people than I am. There's no false modesty in saying that. What they never did was doubt themselves and their judgment — and in that pride was the family's dissolution.
Reading Dante gave me the key to this. My father was a kind of Farinata of the Felicianas. Farinata is a Tuscan nobleman condemned to the Inferno because he did not believe in God; rather, he believed in his family, his city, and himself. My father believed in God, certainly, but not as much as he believed in himself and the world he inherited, and helped to build. I wrote about Farinata on this blog here. Excerpts:
Herzman & Cook add that one way to think of the sin of heresy is mistaking one part of the truth for the whole truth. In this sense, the heresy of Farinata and Cavalcante includes believing that truth consisted in their all-consuming love for family, party, status, and so forth. The thing is, there is nothing wrong with loving your family, your party, your city and your creed. The error comes in believing that these are ultimate ends. To let this disorder reign in one's heart inevitably results in disorder in the family, in the community, in the city, in the country, everywhere — because everything is connected. Could this be why Jesus said to call your brother a fool puts you in danger of the fires of Hell?

This was incredibly helpful for me in trying to untie the knot that bound me after my return to my Louisiana home. The divisions between my Louisiana family and me that had been there for most of my life proved impossible to bridge. I couldn't figure this out. I had no doubt that my sister loved me, though she didn't much like me, nor did I doubt that my dad loved me, though he disapproved of me. And I loved them. So why the struggle?

It was, I think, because all of us put far more value on the good things of this world than we ought to have done. Family is important, but it's not the most important thing. Community is important, but it's not the most important thing. Philosophy (by which I mean worldview) is important, but it's not the most important thing. I could not ever hope to fit in as I wanted to because they considered me to be selfish and unloving for not loving as they loved — that is, for not sharing their particular view of what it meant to be devoted to family, to place, and so forth. In their view, if I loved as I ought to love, I never would have left, and I would have the same vision of the good as they do.

I deeply believe they were, and are, wrong about this. The thing is, I had grown up in this family culture, and had internalized its values. Deep down, I accepted this critique, even though I have spent all my adult life fighting against it on the surface. Much of this is in Little Way — in the part where my niece Hannah reveals to me that her late mother and my father had raised her and her sisters to think bad of me for having left home, and for believing the things I do and living the way I do. What I hadn't counted on is this state of things existing even after my sister's death. It is the immovable object. And crashing hard against it on my re-entry very nearly broke me.

Reading Dante — this canto in particular, but also the entire Commedia — helped me to see things I couldn't see. It had not occurred to me that disordered love could be so destructive, at least not in this way. How could you love the idea of family too much, and the idea of place too much? It's not hate, so how could it be wrong?

I saw how it could be wrong. I saw that the insistence on the primacy of these divisions, on treating them as fundamental, unalterable facts of life that gave life meaning and structure, could refuse grace, and, tragically, ensure that these divisions become permanent.

I had done all I could to bridge the chasm. There was literally nothing more that I could do. This wrecked me.

What I could do, and what I did, was this: recognize the extent to which in my heart of hearts, I had always accepted this judgment, and oriented my own interior life around it. The division existed tangibly in the world, and because of that, it existed in my soul as well. It came between God and me, and made me think that God loved me, but He couldn't possibly approve of me, no matter what I did. My spiritual life, I came to see, had been for many years oriented around appeasing a God whom I was constantly failing in my duties regarding faith and morals.

Once Dante unmasked this within me, I saw that I had made false idols of Family and Place. It's not that loving Family and loving Place are bad things — they are, in fact, good things — but that they are only good relative to the ultimate good, who is God. Once I gained that understanding, through the graces that came through prayer and confession (and therapy), I was able to renounce these idols, by which I mean I was able to rightly order them.
And that's where my healing started. It all ended, as regular readers know, with me spending the last week of my father's life, living with him in his bedroom at home (he was in home hospice care). I wrote about the epilogue here. Excerpt:
Days later, the moment was at hand. We gathered all the family members who were near, and as many of the neighbors as could be there. Daddy had not been conscious for a couple of days. His bedroom filled with the people who had loved him for most of his life. They had come to see him off.

At the end, his breathing became fast and labored, and he writhed, as if trying shake off his flesh. Mama took his right hand, and I clasped his left. As Daddy drew his final agonized breaths, I looked into his face. It was the only thing I saw, and in it, I saw the face of Christ. More importantly, I saw him, not as the man of whom I was in awe, the man whom I sometimes hated, the man with whose difficult legacy I wrestled in my heart for decades, but him as a fellow sinner and sufferer, and poor creature who needed my love as surely as I needed his. Death humbles us all. That hand of his that held me as a helpless baby, I held myself when his soul left his helpless body. There is perfect harmony in this, a harmony rightly divided and bound together by love — the love that moves the Sun and all the other stars.

My final words to my father were, "Thank you, old man, for everything." They may be the truest words I ever spoke to him.
Here is a photo of Father Matthew blessing my father, a couple of days before he died:
And here is a photo of my mother and me, hours before Daddy breathed his last, comforting him by showing him a photo of Ruthie, and telling him that soon he would be with her:
The tragic beauty of this story, of all of it, won't let me go. Why do I wonder if this saga of one Southern family says something about the way we live today? I think it has to do with the fact that most of us long for the rootedness that Daddy and Ruthie had, but we aren't willing to make the sacrifices necessary to acquire it — if it is even possible for us to acquire. But what if you are willing to make that sacrifice, as I had been, but the door is closed to you? More deeply, what if, in defense of the rooted way of life, they close the door to you because they cannot forgive you for being disloyal to it — being disloyal simply by being different — and without knowing what they are doing, guarantee that the way of life will die with them?
Father Matthew, who is not a Southerner, once told me that one thing that stood out to him about the Southern character is the ferocity with which we hold grudges. After thinking about it for a moment, I had to agree with him on that. We too often know who we are by who and what we hate. It's a very Dantean point: love and hate are the same thing, seen from different angles. Because, as Walker Percy said, we in the South tend to be more Stoic than Christian, my father and my sister (who was a faithful churchgoer) believed that they were doing the right — indeed, the righteous — thing by digging in in the face of the challenge I presented to them. By being unable, or unwilling, to change, to forgive, and to seek forgiveness, they lost the things that mattered most to them.
This is one of the paradoxical lessons of di Lampedusa's novel The Leopard: "If we want things to stay as they are, things will have to change." That is, to hold on to the things that matter most to us, we have to be flexible enough to adapt to changing circumstances. If we don't, we could lose it all. This is a point I try to make with the Benedict Option: that we conservative Christians cannot keep doing things they way we have always done them, because we will lose everything if we don't adapt. I say we have to build arks within which we can float atop liquid modernity; many Christians either deny the flood, or with heroic defiance say, "I'll take my stand."
My father and my sister took their stand with similar heroic defiance. Now they are gone, and the world they wanted to defend has gone with them. It did not have to happen. Or did it? Theirs was a lost cause, at least in the way they fought for it. Is mine?
Now you see the reason for the anxious, faraway look on the face of the man standing in the shadow of the crape myrtles in Starhill Cemetery, where his family lay all around.
Anyway, here's a link to the entire New Yorker profile. 
UPDATE: All of this brings to mind the great and difficult Wallace Stevens poem The Idea Of Order At Key West:
She sang beyond the genius of the sea.
The water never formed to mind or voice,
Like a body wholly body, fluttering
Its empty sleeves; and yet its mimic motion
Made constant cry, caused constantly a cry,
That was not ours although we understood,
Inhuman, of the veritable ocean.

The sea was not a mask. No more was she.
The song and water were not medleyed sound
Even if what she sang was what she heard,
Since what she sang was uttered word by word.
It may be that in all her phrases stirred
The grinding water and the gasping wind;
But it was she and not the sea we heard.

For she was the maker of the song she sang.
The ever-hooded, tragic-gestured sea
Was merely a place by which she walked to sing.
Whose spirit is this? we said, because we knew
It was the spirit that we sought and knew
That we should ask this often as she sang.

If it was only the dark voice of the sea
That rose, or even colored by many waves;
If it was only the outer voice of sky
And cloud, of the sunken coral water-walled,
However clear, it would have been deep air,
The heaving speech of air, a summer sound
Repeated in a summer without end
And sound alone. But it was more than that,
More even than her voice, and ours, among
The meaningless plungings of water and the wind,
Theatrical distances, bronze shadows heaped
On high horizons, mountainous atmospheres
Of sky and sea.

It was her voice that made
The sky acutest at its vanishing.
She measured to the hour its solitude.
She was the single artificer of the world
In which she sang. And when she sang, the sea,
Whatever self it had, became the self
That was her song, for she was the maker. Then we,
As we beheld her striding there alone,
Knew that there never was a world for her
Except the one she sang and, singing, made.

Ramon Fernandez, tell me, if you know,
Why, when the singing ended and we turned
Toward the town, tell why the glassy lights,
The lights in the fishing boats at anchor there,
As the night descended, tilting in the air,
Mastered the night and portioned out the sea,
Fixing emblazoned zones and fiery poles,
Arranging, deepening, enchanting night.

Oh! Blessed rage for order, pale Ramon,
The maker's rage to order words of the sea,
Words of the fragrant portals, dimly-starred,
And of ourselves and of our origins,
In ghostlier demarcations, keener sounds.
To what extent are we the makers of the songs we sing? Or merely the discoverers of songs we liberate, like Michelangelo setting the figure free from the marble?
UPDATE.2: This is delicious:
Latest Articles